Valentine's Cupcakes
A Rich, Heart-shaped Chocolate Sponge Cupcake Topped with a Light Nutella Buttercream and Sprinkles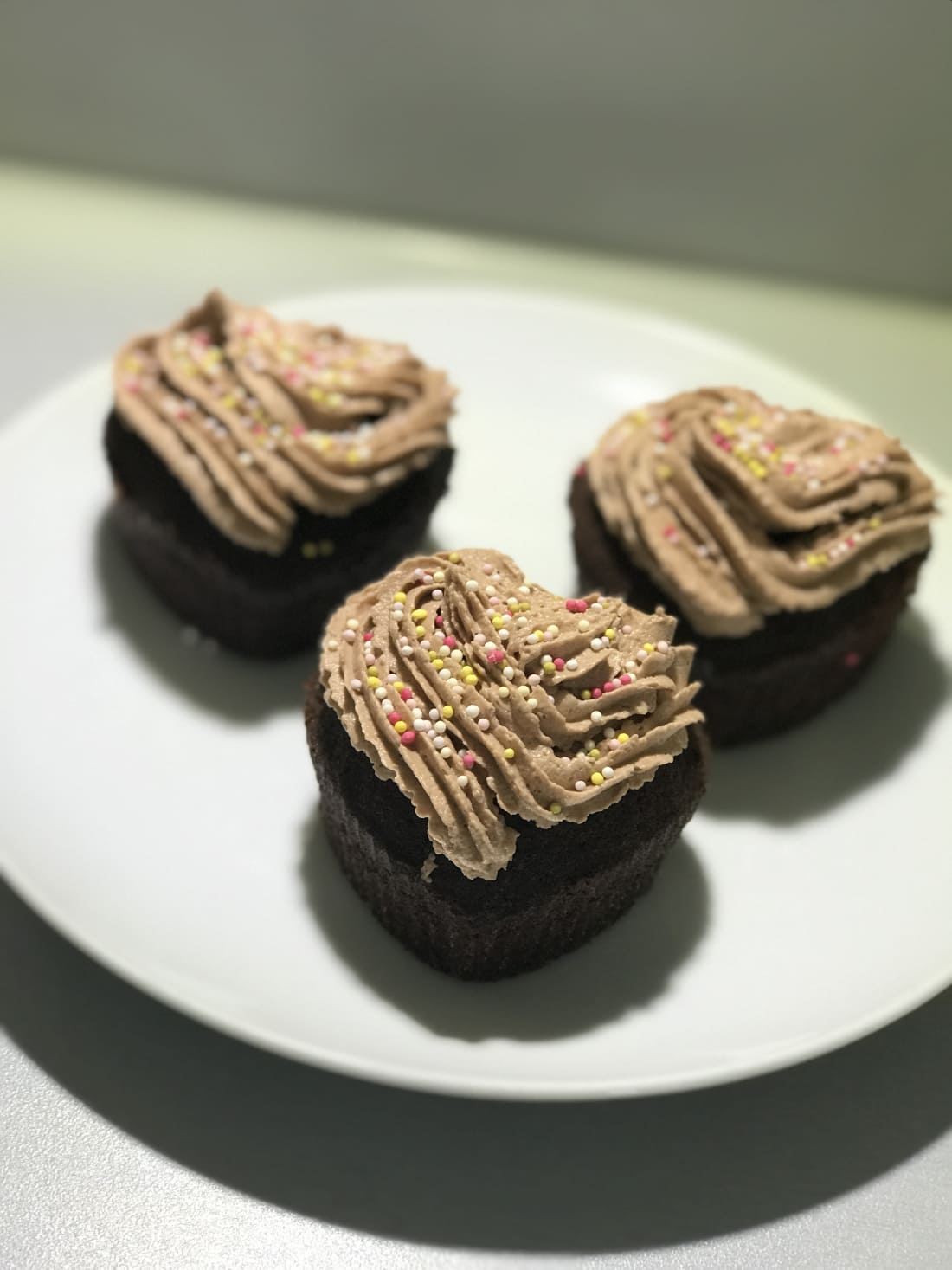 With Valentine's right around the corner, it's time to start thinking about what to get your partner for the big day. Maybe a nice meal out? Maybe a nice box of chocolates? Maybe a bunch of flowers? Or maybe something personal? Something made by you especially for your SO. Something you can enjoy yourself. Something quick, simple, and cheap... Why not try making them yourself?
---
Serves: 12 cupcakes
Prep Time: 10-15 minutes
Cook Time: 12-15 minutes
Total Time: 30 minutes
Nutrition (Per Cupcake):
Calories: 206kcal
Carbohydrates: 23 grams
Protein: 2 grams
Fats: 12 grams
Sugar: 18 grams
Equipment:
Heart-shaped cupcake cases (you can find these on Amazon/

eBay

and any other cookware shop)

Electric whisk

Piping bag (I use disposable)

Piping nozzle of your choice

Ingredients
For Cake:
100 grams unsalted butter

100 grams caster sugar

2 medium free-range eggs

75 grams self-raising flour

25 grams cocoa powder (I used Cadbury Fair Trade Bourneville Cocoa)
For Buttercream:
100 grams icing sugar

50 grams unsalted butter

1 tbsp. Nutella
Methods:
Firstly, gather and weigh out the ingredients and pre-heat the oven to 180C Fan/Gas Mark 4/350F.

Then cream together the butter and sugar in a medium bowl until pale in colour and all is well combined.

Crack the eggs into a mug and gradually add into the mixture—if the mixture curdles then add a tbsp. of the flour and mix until the curdles disappear.

Sift in the cocoa powder and flour and mix together until all is well combined.

Fill the cases up 2/3 and place on a flat baking sheet and place in the oven for 12-15 minutes.

While the cupcakes bake, you can start making the buttercream. Start by whisking the butter until lighter and pale in colour.

Gradually add the sifted icing sugar a tbsp. at a time until all is well combined, and the mixture is light and fluffy.

Add the Nutella and whisk together until combined—you can add more if this if you'd like.

Once the cakes have been removed from the oven and have cooled down, remove from there silicon cases and pipe on the buttercream. I added sprinkles to mine however you can leave them plain or add any decoration of your choice.
Special diet? No problem!
Vegan? Try an oil-based butter, a vegan Nutella, or even an egg replacer such as chickpea water or unsweetened applesauce.
Gluten-free? Try a gluten free flour such as rice flour and add in baking powder so the cupcakes rise.
Lactose intolerant? Try using an oil-based butter as well as a dairy free Nutella alternative.
Tips:
Why not save that aching arm by using an electric whisk or stand mixer?

I tend to use room temperature butter to make it easier to cream together the butter and sugar.

I also leave my eggs out a little before baking to bring them up to room temperature as this tends to prevent the batter from curdling.

For the buttercream, make sure the butter is cold—if the cupcakes are still baking then place the buttercream in the fridge.

Make sure the oven has pre-heated properly before placing the cupcakes in the oven

Make sure you place the cupcakes in the oven as soon as the batter is divided into the cupcake cases as this ensures no air is lost from the batter as well as an even bake.
Useful Links
- Vegan and dairy-free Nutella
- Silicon heart-shaped cupcake cases
- Cadbury Bourneville Cocoa powder