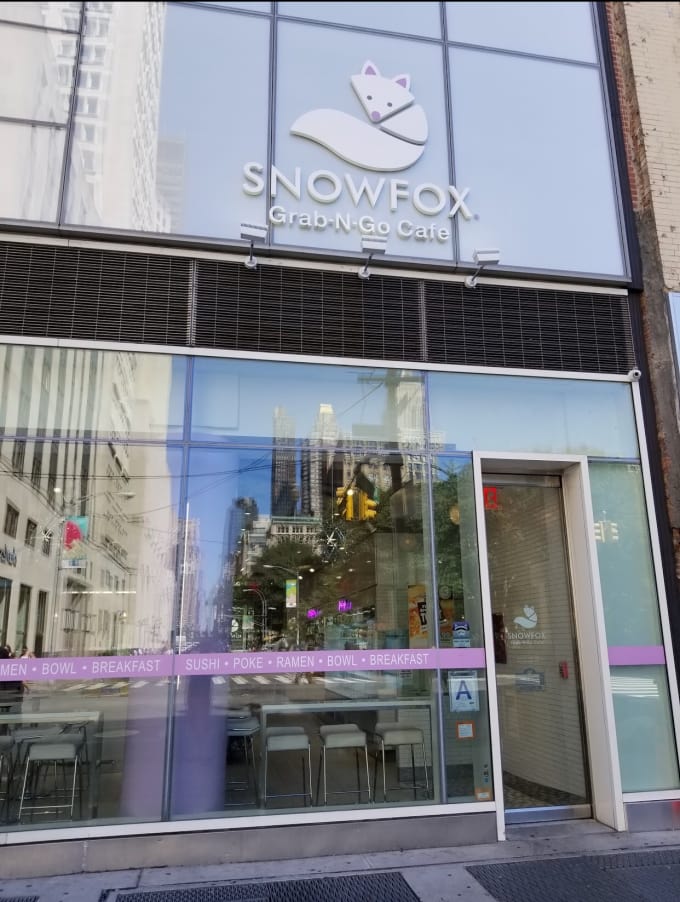 Way down by Madison Square Park across from the Shake Shack there's a small make your own ramen spot called SnowFox. I heard good things about this place and after all the chatter I figured I'd go see it for myself. From the design of the place to the food and service, SnowFox has gotten really good traffic which made me wonder why it has taken me so long to try this place out. SnowFox is next to McDonald's and Chop't salad place which means it's fairly easy to find. With a hunger for something to eat I was excited and ready to begin this experience.

Aesthetic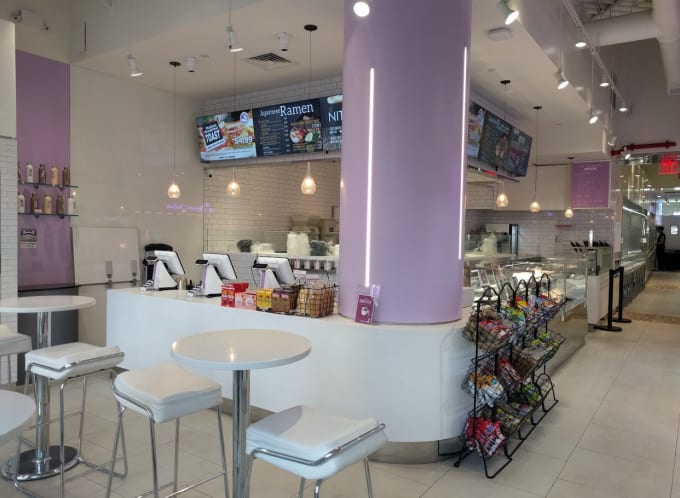 From the outside looking in the place sticks out (in a good way) with their white overlay of a black and purple theme. Their fox logo (as seen in the photo) is a white fox with purple ears and black eyes. The environment is modern and visually appealing. SnowFox looks great for hangouts or for just a grab and go. From their coffee and tea stand to their sushi stand, SnowFox does a really good job on their setup and overall appearance. The small tables are petite and super comfortable chairs make it so after a long day of walking you can relax and enjoy your meal.

Atmosphere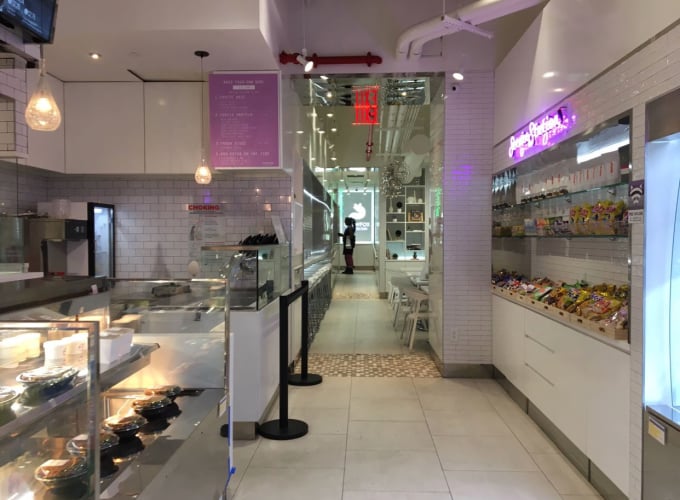 Though it looks small, SnowFox goes out to the back giving the place more room for seating as well as elegance. Also, you enter the back to pick up your dish. It's nice and pretty towards the back because you not only have the SnowFox sign but with soft music to listen to, you have a window where you can view the cooks preparing your meal which is very mouth watering. There's even ready to go ramen and sushi (since the place has a ready to go on their sign). Though I have not tried their ready to go dishes, I wanted to try their dishes in the restaurant in order to get the full experience of SnowFox. Good thing I did though because it was great.
Art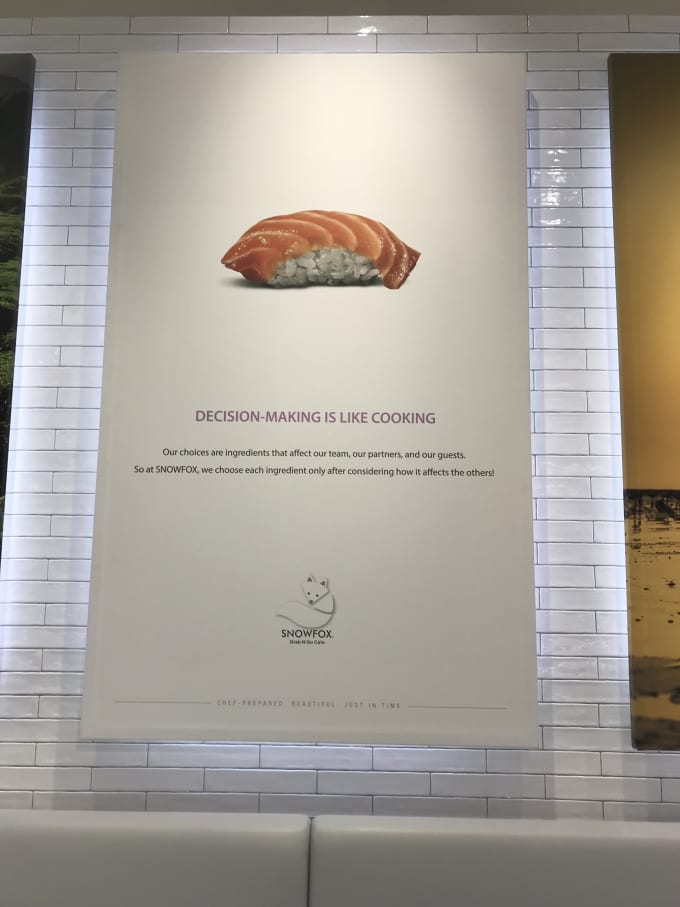 The seating area towards the back opens up to many different pieces of art and interesting cooking as seen in this picture. You can order your food and as you wait you can look at the other works of art posted on the SnowFox wall. It gives you different views on cooking and food that can inspire you. The illuminating light that hides behinds every picture brings brightness and good vibes to the place making the atmosphere cozy and soothing which is great when you need to get some work done while you wait for your food.
The Food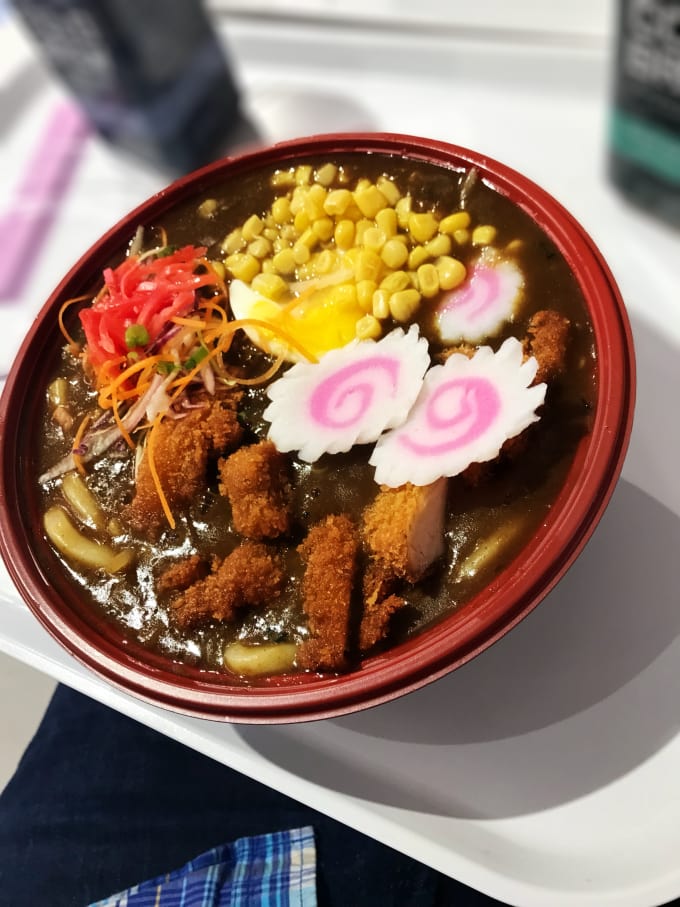 The Chicken Udon Curry is a dish that is so good it screams for more. Let me start by saying what such texture. From the Naruto (spiral pink) to the chicken and wonderful curry sauce. The curry sauce was creamy and flavorful. The heat from the sauce is enough to flare up your nostrils and awaken the soul. The udon is tender and breaks apart as it enters your mouth satisfying the pallet. The slaw and corn are light, refreshing and is a good break away from the curry. I wish there was more udon or a side of rice so I could have continue to savor the curry sauce. This dish was very tasteful and not too creamy. The egg and slaw with the corn add texture and depth to the overall meal. It's a go-to favorite when you enter SnowFox.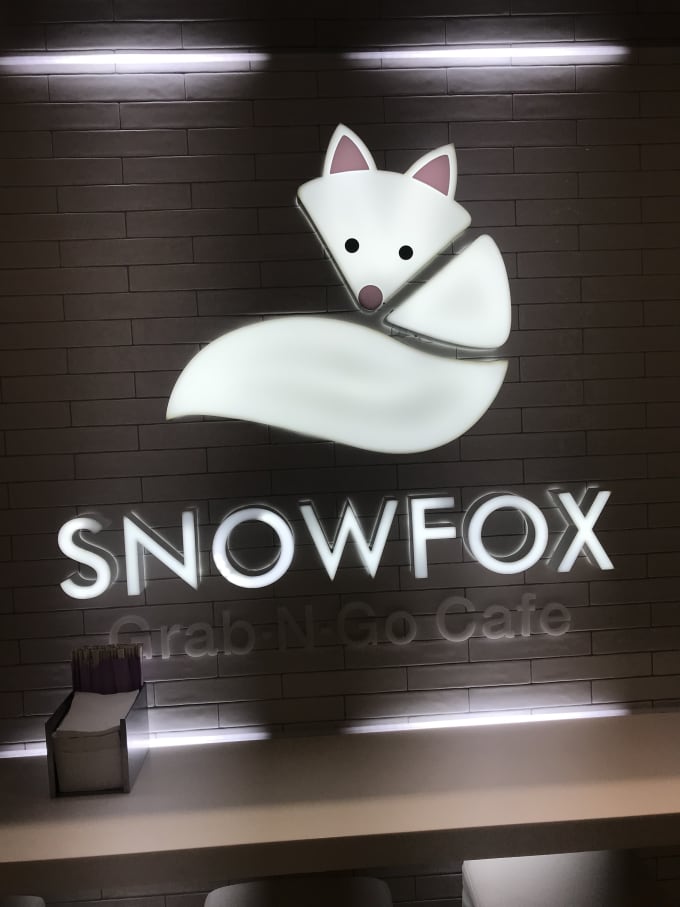 The Gramercy area where SnowFox is located is the place to go whenever you are in need of ramen in your life. The decor is beautiful and the food is outstanding. The service is professional and welcoming. The staff make great conversation and are good with describing dishes well. The prices are not bad. A create your own ramen bowl was a $9.99 at most which is good when you think about it. Ramen aside they also do sushi and they have their own coffee and tea machines so you can make your tea or coffee your way.