Feast is powered by Vocal creators. You support
Sasha Konikovo
by reading, sharing and tipping stories...
more
Feast is powered by Vocal.
Vocal is a platform that provides storytelling tools and engaged communities for writers, musicians, filmmakers, podcasters, and other creators to get discovered and fund their creativity.
How does Vocal work?
Creators share their stories on Vocal's communities. In return, creators earn money when they are tipped and when their stories are read.
How do I join Vocal?
Vocal welcomes creators of all shapes and sizes. Join for free and start creating.
To learn more about Vocal, visit our resources.
Show less
Best Father's Day Gifts for a Dad Who Loves to Cook
Forget another "Kiss the Cook" apron! There are way better Father's Day gifts for a dad who loves to cook available—and they're all on this list.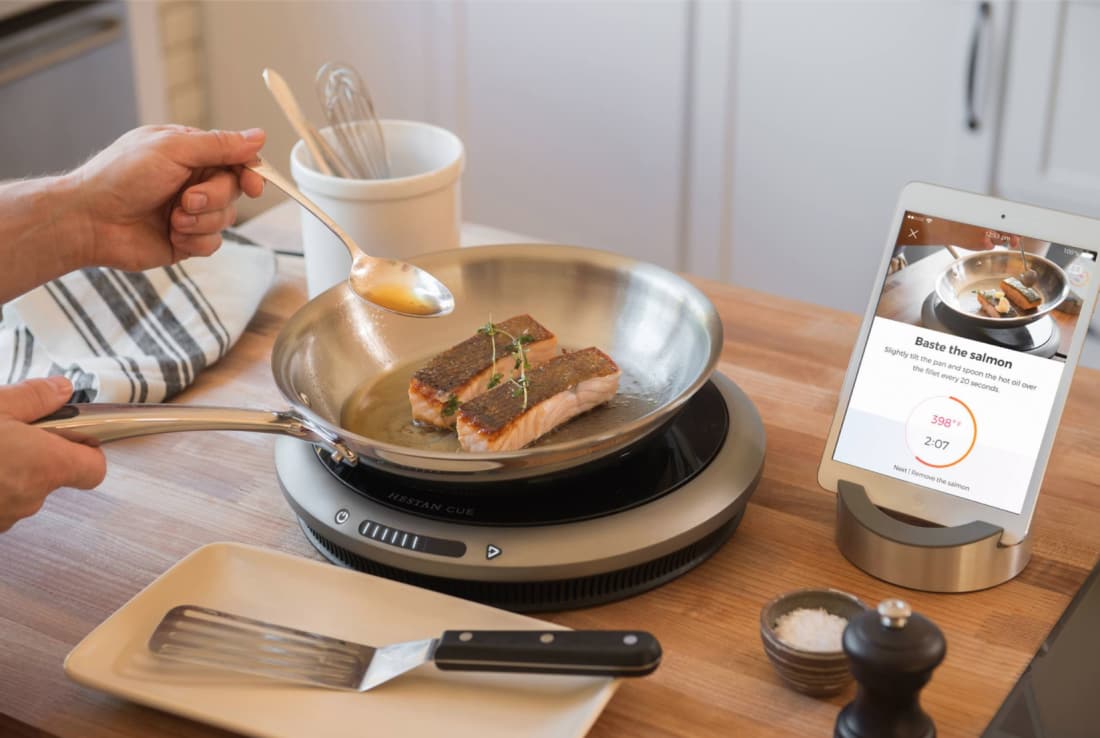 It's often said that many of the world's best chefs are men, and if you look at the Food Network's lineup, plenty of male names pop up that might enforce that belief. Plenty of male celebrity chefs have proven that cooking isn't just a "girl's thing," including Mario Batali, Gordon Ramsay, and John Oliver. 
Considering how common male chefs are, you'd think that people would have picked up on the uptick in demand for culinary gifts for men who enjoy cooking, right? This is doubly notable during major holidays like Father's Day. 
Sadly, up until recently, the only real gifts for a dad who loves to cook came in the form of a grill brush, a spatula, and an apron with a cheesy saying. These days, though, gifting got a lot cooler for dads who are kitchen wizards. 
If you love cooking or have a dad who does, these gifts will whet your appetite for shopping. 
Joule Stainless Steel Sous Vide by ChefSteps
If you're looking for world-class gifts for a dad who loves to cook, then look no further than ChefSteps's own Joule. The Joule is one of the most advanced sous vide tools ever designed and works to heat food evenly, alert chefs when foods are finished, and also maintains temperature with perfect accuracy.
The Joule Sous Vide is a wunderkin of tools and has been used be restauranteurs around the world. If you give your dad this tool, everything he makes will be prepared to perfection. He'll thank you every single time he cooks his favorite steak.  
Smart Bluetooth BBQ Grill Thermometer by Nutrichef
Nutrichef makes some pretty lean, mean grilling machines. Their latest invention is a smart Bluetooth BBQ grill thermometer—a perfect addition on any list of gifts for a dad who loves to cook steaks, dogs, and burgers on the BBQ. 
This neat little number reads meat temperatures with perfect accuracy, and then sends the temperature directly to your smartphone. If your dad has struggled with getting meat cooked to its perfect balance, this treat will be a much-appreciated addition to his grilling arsenal. 
Wemo Smart Wifi-Enabled Slow Cooker by Crock-Pot
Crock-Pot is credited with really developing slow cookers into the invention we know and love today. Though some might say that they've perfected the crockpot years ago, the engineers at Crock-Pot still find new little tweaks to help make cooking easier than ever. 
If you're looking for good gifts for a dad who loves to cook with his slow cooker, then you might want to take a look at this wi-fi enabled gift here. Dad won't even need to be at home to turn it on and let the pot create a delicious meal to come home to. 
Cue Smart Cooking System by Hestan Smart Cooking
Once in a blue moon, you'll have a father who loves cooking but really could use some help remembering when to take the dish off the stove. The Hestan Cue Smart Cooking System is one of the first cooking devices to automatically control temperature and time during every step of the recipe. 
The Hestan recipe app allows you to upload and time everything, even if you're not in the kitchen. An easy to clean pan and heat induction plate are included in this kit, and will make your dad a better cook within moments. 
4-Serving Removable Plate Grill and Panini Press by George Foreman
If you're looking for one of the best gifts for a dad who loves to cook, simplicity is often key. Most dads love pro wrestling, and they also love sandwiches. Many dads also are concerned about health when they grill things up, too. 
The George Foreman Grill, therefore, is a perfect gift for a dad who wants to cook, but also wants to avoid overly fatty goodness. This grill serves four people in a single press, and keeps your fat content as low as possible. 
Turboblend VS Blender by Vitamix
Is there really any company that could make a better blender than Vitamix? We think not. If you have a dad who loves smoothies, a top-rated blender from Vitamix is one of the best gifts for a dad who loves to cook up fresh blends of fruits and veggies. 
The Turboblend VS Blender is extremely fast at blending goods, can clean itself in 30 to 60 seconds, and can even heat up foods while it blends them up. Everything from soup to smoothies can be made in this gizmo, which is why dear ol' Dad will love it. 
Belgian Waffle Maker by Chefman
Who doesn't like being woken up with a batch of delicious waffles in the morning? Dads who really love the idea of serving up piping hot breakfasts every day will find a brand new Belgian waffle maker to be one of their favorite new kitchen tools.
If you're looking for one of the best gifts for a dad who wants to cook breakfast, Chefman's no-spill, nonstick Belgian waffle maker will fit the bill. This kit even comes with a free scoop and spout for easy pouring!
Spiralizer Attachment with Peel, Core and Slice by KitchenAid
Kitchen-loving dads who love making healthy meals for their kids can tell you that zoodles are the hottest new way to enjoy pasta while adding nutrients. Zoodles are spiralized strings of zucchini. 
Buying zoodles at Whole Foods is pricey, so why not get Dad a new way to get them? If you have a very health-oriented father, then this will be one of the smartest gifts for a dad who loves to cook that you can buy. 
Avance XL Digital Airfryer by Philips
It's hard to deny how nice sinking your teeth into freshly fried food can be. Frying things up can be tricky—not to mention greasy and unhealthy. Modern technology has given us a great new way to enjoy fried food with slightly less guilt. 
We're talking about airfryers, of course. The Philips XL Digital Airfryer works to reduce calories and fat while still giving you crispy fried goodness. 
This gadget is one of the most useful gifts for a dad who loves to cook up some fried vegetables, chicken, or fish every so often. 
Rapid Egg Cooker by Dash
Eggs, anyone? Everyone seems to love having a nice bunch of eggs with their breakfast or lunch meals. Over easy, poached, scrambled... No matter how you choose to serve 'em up, eggs are a delicious addition to any meal. 
One of the best gifts for a dad who loves to cook up breakfast for a large family, therefore, is a rapid egg cooker that can whip up hard boiled eggs, poached eggs, scrambled eggs, or omelets in a pinch. 
5-in-1 Griddler by Cuisinart
A gift that is rich in versatility will always be welcome, especially if your family lives in a smaller home. The 5-in-1 Griddler from Cuisinart takes the cake when it comes to usefulness and portability. 
This is a grill, mixed with a griddle, mixed with a panini press, and also comes with a half-and-half grill/griddle attachment. If you have been looking for a way to set up a full cooktop in your apartment, this is it. 
Seriously, this is a great gift idea for the grillmaster who's left without a gift. 
This gadget isn't just good for dad, either. If you have a friend going to college, it's also worth knowing that this 5-in-1 offers one of the best ways to cook in a dorm out there.
Quart Frozen Yogurt-Ice Cream Maker by Cuisinart
Father's Day is right in the middle of the dog days of summer, and if you're like most others out there, nothing quite beats the heat like a couple of scoops of ice cream. That's what makes a DIY ice cream maker, such as the one from Cuisinart, one of the best gifts for a dad who loves to cook. 
This easy to clean, easier to use ice cream maker will let you make quarts of your favorite ice cream in a pinch. The possibilities are endless with your own ice cream maker. (Boozy ice cream, anyone?)
2-in-1 Vacuum Sealing System by FoodSaver
Most people waste thousands of dollars of food every year, and if you're proud of your cooking, then you already realize what a travesty this can be. If you have a dad who loves to cook but rarely gets the chance to, then the FoodSaver 2-in-1 Vacuum Sealing System with its Starter Kit is a great choice. 
This system allows you to keep food longer without the worry of oxidation or rot. Every pouch is vacuum-sealed for freshness, which is what makes it absolutely great for long-term storage. 
Dual Breakfast Sandwich Maker by Hamilton Beach
A breakfast sandwich is the ultimate indulgence for breakfast fans, isn't it? Decadence in a biscuit is what it's all about, and if you have a father who'd agree with this statement, you're not alone. That's what makes a breakfast sandwich maker one of the best Father's Day gifts for a dad who loves to cook. 
This Dual Breakfast Sandwich Maker from Hamilton beach whips up two perfect sandwiches within five minutes. One for you, one for dad. 
Diamond Hone EdgeSelect Professional Electric Knife Sharpener by Chef's Choice
No cook is happy without a set of sharp, clean knives. It's just the way cooking rolls. Dads who are hardcore foodies that can expound on the pros and cons of ceramic knives versus steel knives also know how hard it can be to keep knives sharp. 
Chef's Choice automates the entire sharpening process with their electric knife sharpener. Diamond abrasives will keep your dad's chef knives clean, crisp, and ready to use at a moment's notice. 
Home Bakery Virtuoso Breadmaker by Zojirushi
The aroma of freshly baked bread is something that most of us take as a sign of comfort. Zojirushi makes bread baking a cinch by automating the entire process. If you're looking for one of the best gifts for a dad who loves to cook bread, this is it. 
Gluten-free eaters can also enjoy this bread maker too! The Zojirushi Home Bakery Virtuosos has a gluten-free menu setting for people who aren't quite good with wheat. 
Mocubo Bamboo Cutting Board by Quirky
Speaking of kitchen necessities that facilitate cutting, let's talk about cutting boards. Cutting boards are necessary for just about everything, including serving cheese at wine pairing parties. 
The Mocubo Cutting Board from Quirky has useful trays for storage, is made of eco-friendly bamboo, and will last a lifetime. Food prep will be easier than ever once your dad has this goodie!
3D Food Printer by PancakeBot
Did your dad make Mickey Mouse pancakes when you were young? Maybe it's time to show him you remember those little gestures and give him a new way to up his pancake game. 
This nifty 3D printer allows you to print out designs of your choice onto a pancake. If your dad loves geekery and tech alongside his culinary fun, then you'll understand why we chose this as one of the best gifts for a dad who loves to cook.