Be the Fungi
Introducing Mushroom Hunting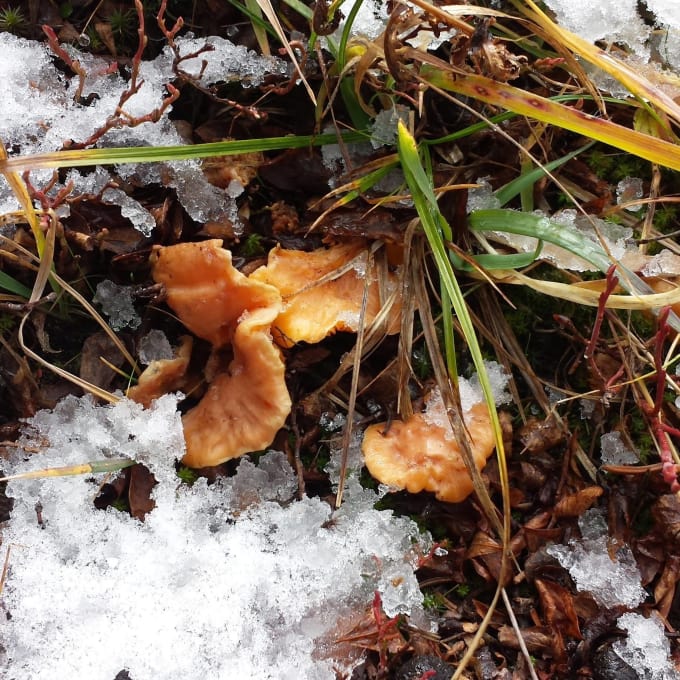 As the summer grows late and the trees fill themselves with the last reserves of the deep green chlorophyll of summer, many will hike deep into the mountains of Colorado. They are in search of a hidden treasure that only comes with patience and a little luck. It is the season of mushroom hunting in the mountains.
My family discovered this pass-time while on a hike some 20 years ago. We had run into a family from France and they revealed their catch. I remember looking into their bags and seeing the fresh orange mushrooms glistening like little pockets of sunshine. It was at this time that our eyes were opened to Chanterelles.
Correct identification is vital. Our French guides went on to explain how Chanterelles smell like apricots and this was one of the ways that one can tell that they've discovered the prize. My eyes lit up with the new found past time and discovery. I looked over at my sister holding a flower and her eyes looked equally excited. The whole family was pretty excited. One week later we had a mushroom book in hand and most of that fall was spent searching out for the local delicacies with mushroom bags and knife in hand.
Both the Chanterelle and the Boletus mushroom list themselves as "choice" in many mushroom books and for good reason. Sautéed with a little oil and seasoning they make a scrumptious dish on their own and also seem to complement other Pan-Asian and Italian dishes as well. They also are the runner up in mushroom books for their easy identification.
The Boletus family of mushroom all have the characteristic of having a spongy bottom and only one member in the family is said to cause mild sickness. Conveniently, this specific member of the family can be identified as the gills turn purple after sometime.
There is also the Hawks-eye Mushroom, which has the appearance of having a white surface with black scorch marks on its surface. Our family has recently included this new addition to the palette of edible choices. After many years however, the Chanterelle seems to reign supreme, but is also the most rare to find.
When venturing into the great outdoors, it is never known if our family will yield success in our efforts as all of the mushrooms listed above are not easily found and only grow under certain conditions. There needs to be rain, but not too much rain and it needs to be late summer into early autumn, but not too far or early into each of the seasons. The sightings of the mushrooms often come with spontaneous discoveries rather than calculated timing, although the latter is definitely required to yield the former.
I remember being on a school trip in high school and observing that our location could be prime mushroom territory. A few of my fellow classmates expressed that they had no desire for mushrooms and up to that point had often pushed them off to the side of their dinner plate, desiring more appealing comestibles. Everybody regardless, was excited to search. A few hours later a bountiful pile of mushrooms were waiting to be cooked up on our cabin table and following the feast everybody was made into a mushroom lover.
Sometimes the search proves to be an ill attempt, yet more often than not successful foraging causes more smiles around a dinner table and a general feeling of accomplishment. It's important to not pair some of the mushrooms with certain types of wine and it is also suggested to consume wild mushrooms in moderation as they are quite unique in nature.
Many varieties can be hallucinogenic and some are lethal so practiced knowledge is advised. Still the practice of searching proves to make a great date idea for any outdoor adventurer and with a little knowledge and a mushroom book anybody can start the game. It proves to also add one more feather to the culinary cap as well. So next time when you find yourself in the wilderness why not look down instead of up and search for the fantasy land on the ground floor?