Feast is powered by Vocal creators. You support
Ayah Elbeyali
by reading, sharing and tipping stories...
more
Feast is powered by Vocal.
Vocal is a platform that provides storytelling tools and engaged communities for writers, musicians, filmmakers, podcasters, and other creators to get discovered and fund their creativity.
How does Vocal work?
Creators share their stories on Vocal's communities. In return, creators earn money when they are tipped and when their stories are read.
How do I join Vocal?
Vocal welcomes creators of all shapes and sizes. Join for free and start creating.
To learn more about Vocal, visit our resources.
Show less
10 Smoothies for Winter
Recipes for when you want to use your blender, despite the freezing cold.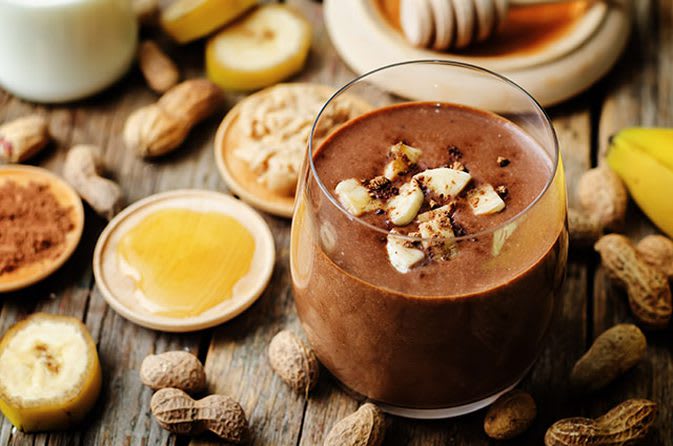 Most people wouldn't say a smoothie is one of their top choices for a morning beverage when it's below 50 degrees outside. But the truth is, on some mornings you need energy that you just can't get from your usual cup of coffee—even if that is what you'd prefer to warm your toes. Fruits and vegetables are jam-packed with iron, fiber, antioxidants, and vitamins that will help you power through your day, and it's especially important to load up during the winter to get your immune system strong. The best part is, the addition of superfoods, healthy fats, and warming spices will make you actually want to drink these smoothies on the coldest of days.
Each of these smoothies serves one, and all you need to do is combine the ingredients in your blender and enjoy!
1. Apple Cinnamon Smoothie
½ red or golden apple

½ ripe pear

1 teaspoon maple syrup

1 cup Hemp Milk (or any milk substitute of your choice)

1 pinch cinnamon

1 cup cooked oatmeal

2. Gingerbread Smoothie
¼ cup ice cubes

½ frozen banana

¾ cup unsweetened vanilla almond milk

½ teaspoon fresh ginger, grated

½ teaspoon cinnamon

2 teaspoons molasses

crystallized ginger for garnish (optional)
3. Black Forest Smoothie
1 cup frozen cherries

1 or 2 Medjool dates, depending on desired sweetness

¼ cup rolled oats

1 tablespoon chia seeds

2 tablespoons unsweetened cocoa powder

1 cup unsweetened almond milk

1 scoop protein powder (optional)

1 or 2 handfuls of baby spinach (optional)

4. Pumpkin Protein Smoothie
1 cup unsweetened almond milk

½ cup pumpkin puree (not pumpkin pie filling)

1 teaspoon honey, agave nectar, or sweetener of choice

1 scoop vanilla protein powder

½ teaspoon pumpkin pie spice

1 medium banana

6 ice cubes

5. Banana Lucama Smoothie
1 cup unsweetened almond milk

1 ½ tbsp Organic Lucuma Powder

passionfruit

1 ripe banana

¼ cup cooked quinoa

6. Coconut Pomegranate Smoothie
1 cup pomegranate seeds

½ cup light coconut milk

1 tablespoon chia seeds

1 cup baby spinach

handful of ice

7. Almond Mocha Smoothie
12 pitted dates

½ cup raw almonds

2 tablespoons cacao powder

1 teaspoon instant coffee

½ cup unsweetened almond milk

6 ice cubes

cacao nibs for topping (optional)

8. Cranberry Orange Smoothie
6 ounce Vanilla yogurt (any brand)

¼ cup fresh cranberries

¼ cup orange juice

1 large banana (I use mine frozen)

6 ice cubes

protein powder, optional

9. Super Immunity Smoothie
½ grapefruit

½ Orange

8 oz brewed green tea

1 ½ tsp Pure Raw Honey

4 teaspoon Ginger Root, Raw

½ cup Kale, Raw

1 tablespoon Ground Flax Seed
10. Hot Chocolate Smoothie
1 ½ cups unsweetened almond milk

3 pitted dates

1 tablespoon cacao powder

1 pinch cinnamon

1 pinch Nutmeg, Ground

¼ teaspoon Organic Vanilla Extract

1 teaspoon Maca Powder

So don't put away your blender until spring—try out one of these tasty, cold-weather appropriate smoothies. Enjoy the nutrients, much-needed immunity boost, and amazing taste. Happy blending!