Sweet Heat Four Cheese Manicotti
Adventurous, but Not Too Adventurous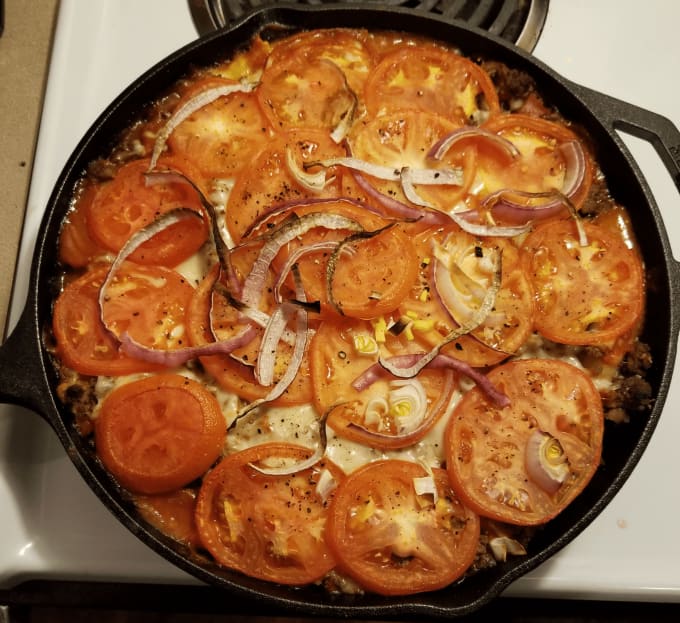 Hello? Is it manicotti you're looking for? No, no, no, that doesn't work. Dammit, Dave, I told you they wouldn't like it. These are classy people.
Sorry about that. Dave is…special. Where were we? Oh! Yes. Manicotti. I won't bore you with a riveting anecdote about how the other night I wanted to make stuffed manicotti, but couldn't find a recipe I liked, and so was forced to make one up.
…I said it wouldn't be riveting.
Right. So, this dish is meant to be lightly sweet to bring out the flavor of the tomatoes (since we aren't using a tomato-based sauce here). The sweetness comes from the espresso balsamic, which can be found online or in specialty shops. If you can't find it or don't want to use it, then switch out the pumpkin chipotle pasta sauce for your favorite tomato-based sauce and all will be right with the world again.
Okay, are you ready?
Here's What You'll Need:
½ Large Red (or purple, because I mean it's technically purple) Onion

1 lb Beef

1 tsp Minced Garlic

1 ¼ tsp Espresso Balsamic

10 oz Cottage Cheese

16 oz Ricotta

4 oz Sour Cream

½ cup Parmesan

2 cups Mozzarella

8 oz Manicotti

½ tsp Parsley Flakes

½ tsp Italian Seasoning

24 oz Pumpkin Chipotle Pasta Sauce

1 tsp Olive Oil
2 Large Tomatoes
Turning Ingredients into Gold:
Turn oven on 375˚F.
Dice half the onion. Heat a large skillet on medium-high heat. Once the skillet is hot, add olive oil. Once the olive oil is heated, add minced garlic

and diced onion. Sauté until onion starts to become translucent (about three minutes). Turn heat to medium. Scootch onion and garlic to the side of the skillet. Add

beef

. Once the beef is halfway cooked through, stir the onion and garlic back in. Add

espresso balsamic

. Add salt and pepper to taste. Once beef is cooked, put the mix into a strainer and set aside.



Bring water to a boil in a large pot. While waiting for the water to boil, grab a mixing bowl. Mix ricotta

,

cottage cheese

,

sour cream

, 1/4

cup parmesan

, 1

cup mozzarella

,

parsley flakes

, and

Italian seasoning

. Add salt and pepper to taste. Set aside.



Is your water boiling yet? Good. Now add the manicotti

and cook for four to six minutes. You want the pasta to be very firm (so, you know, don't cook it all the way). Strain the manicotti. Run cold water over the manicotti (so they won't stick together). Set aside.



Slice the remaining half of the onion. Slice tomatoes. Set aside.
In a large, deep iron skillet, add half the pumpkin chipotle pasta sauce. Spread the sauce to cover the entire bottom of the skillet.

This next part is super tedious, so I'd suggest turning on your favorite podcast or something. I'll wait... Got it? Okay. Fill manicotti with cheese mix. Now, there should be the perfect amount of mix to stuff (and I mean really pack it in there) all the manicotti, plus three bites, because cooking is hard work and you might need a snack. You're welcome! Place the stuffed manicotti in the skillet as you go.

Is your skillet full? I'm imagining you saying yes. You might really have to force the last two in. Now, add the meat mixture and spread it evenly over the manicotti. Good, yes, that's good.

Add the rest of the pumpkin chipotle pasta sauce. This will not be enough to cover smoothly. That's okay! Add a little water to the empty jar (maybe a tbsp), close the jar, shake

vigorously

. I said shake it! Good. Pour that over the meat mix.

Sprinkle the rest of the parmesan over that. Now, sprinkle the rest of the mozarella over that. That's perfect. You're a natural!
Starting from the edge of the skillet, begin placing your tomato slices until the entire dish is covered. Add the sliced onion.
Place the iron skillet into the oven and cook for 30 minutes. **15 minutes through cooking, add salt and pepper to the top layer. This will help wilt the tomatoes and onions.**
The End Result