Salmon with Pineapple Salsa
Get your healthy intake of omega-3s with this delicious salmon with pineapple salsa recipe.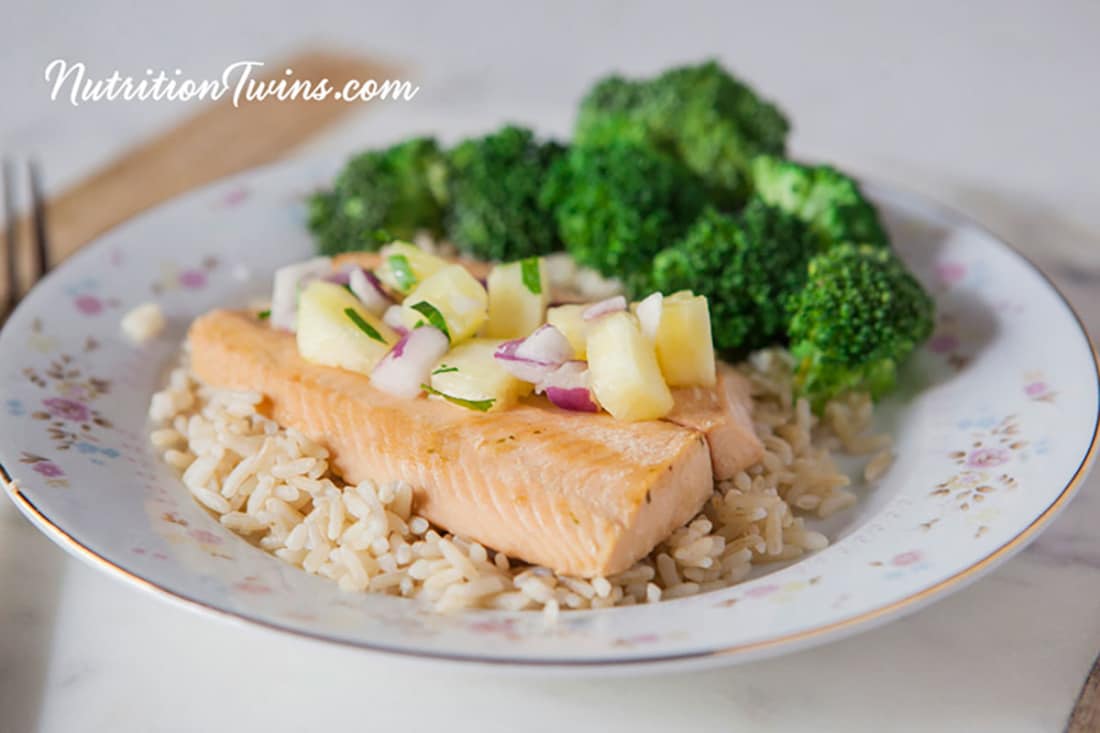 We are girls who love fish and seafood. Lyssie is obsessed with sardines, to put it mildly (she could eat them at every meal and be happy as a clam.) Tammy tends to think that it's not only the taste that Lyssie loves, and that they're a great source of inflammation-fighting omega-3s, but she feels like we have a lot in common with the little guys since we're small too –only 5-foot-2, and that's on a good day. 😊
As registered dietitians, we're always encouraging our clients to get more omega-3 fatty acids, and since we know that having them eat sardines at every meal may not fly, we're always creating recipes that help them to get their omega-3s. We created this salmon with pineapple salsa recipe for that very reason. We love the combination of the sweet, crunchy salsa with the rich salmon.
Interested in more healthy salmon recipes? Please feel free to search our site. And here are a few to try:
Omega-3s
You've heard you need 'em.
Wonder Why?
Here's what omega-3s can do:
help lower high triglycerides and reduce the risk of heart disease.


ease the pain or rheumatoid arthritis by fighting inflammation and reducing join pain and stiffness.


help to fight mild depression. Research has shown that people with low levels of omega-3's have higher rates of depression.


Research shows promise in improving symptoms of asthma, ADHD, Alzheimer's disease and dementia.


Pregnant? Don't skip on omega-3's


DHA, one of the critical omega-3 fatty acids found in fatty fish (EPA is the other one) is essential for brain and eye health of infants



While we're throwing back salmon and sardines 😉 if they ain't yo thang, you can always try these other great omega-3 sources:

Anchovies


Bluefish


Herring


Mackerel


Sturgeon


Lake trout


Tuna

However, before fishing for other ways to get your omega-3s with the options above, we think you should try this easy recipe and see if you love it like we do! 🙂

Salmon with Pineapple Salsa Recipe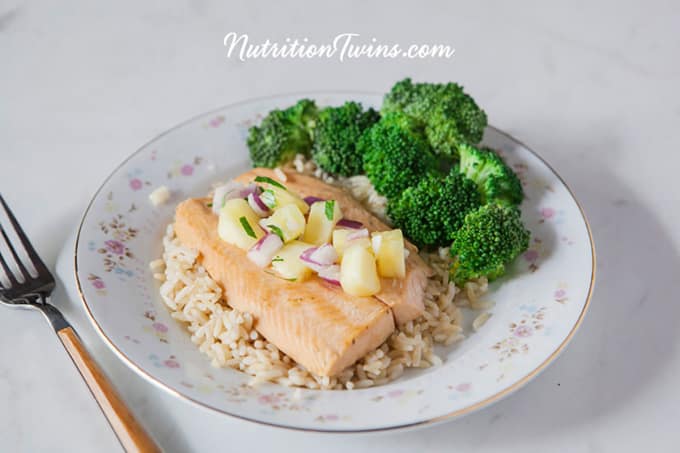 We use wild salmon whenever we can—they contain more beneficial omega-3 fatty acids and they contain fewer contaminants as well.
Yield: 1 serving
Ingredients:
4 oz salmon filet


1/2 tsp ground cumin


1 lime


1/4 cup diced pineapple


2 tbsp diced red onion


1 tbsp chopped cilantro


For serving ½ cup cooked brown rice, 1+ cups steamed veggies

Directions
Preheat oven to 375. Place the salmon filet on a foil-lined baking sheet. Sprinkle with the cumin and squeeze half of the lime over the top. Bake for about 10 minutes, until cooked through.


Meanwhile, mix together the juice of the other half of the lime with the pineapple, red onion, and cilantro.


When the salmon is done, top it with the salsa and serve alongside brown rice and veggies.

Nutrition facts per serving (salmon + salsa with ½ cup brown rice): 347 calories, 9 grams fat, 1 gram saturated fat, 50 grams sodium, 44 grams carbohydrate, 4 grams fiber, 27 grams protein.
Nutrition facts per serving (without brown rice – just salmon and salsa): 197 calories, 7.5 grams fat, 1 gram saturated fat, 50 grams sodium, 9.5 grams carbohydrate, 1 gram fiber, 23 grams protein

Enjoy!
The Secret to Skinny by The Nutrition Twins