Feast is powered by Vocal.
Vocal is a platform that provides storytelling tools and engaged communities for writers, musicians, filmmakers, podcasters, and other creators to get discovered and fund their creativity.
How does Vocal work?
Creators share their stories on Vocal's communities. In return, creators earn money when they are tipped and when their stories are read.
How do I join Vocal?
Vocal welcomes creators of all shapes and sizes. Join for free and start creating.
To learn more about Vocal, visit our resources.
Show less
Perfect Beer Can Chicken Recipe
Aside from its name, the appeal of the perfect beer can chicken recipe is the flavorful and crispy finished meal.
Beer can chicken is perfect for every cookout. Thinking of cooking this chicken dish that tastes ridiculously good? If you are, then this recipe will help you achieve perfection in cooking beer can chicken. This unique dish is also known as the beer butt chicken, chicken on a throne, and beer in the butt chicken. But what makes it unique, aside from its name, is the appetizing and crispy chicken skin, flavorful, and juicy meat that you can get after roasting it over a beer can.
Take your apron, get the best chicken from your local supermarket, and fire up your grill. This simple recipe will serve as your guide in preparing and cooking the perfect beer can chicken that you and your folks will surely love.
Ingredients:
1 whole 3-4 pound chicken

2 tablespoons of paprika

1 1/2 tablespoon chili powder

2 tablespoons ground cumin

1 tablespoon ground coriander

1 teaspoon garlic powder

1 teaspoon sugar

1 tablespoon freshly ground black pepper

1 tablespoon salt

Olive oil

1 tall can of pale ale

Rosemary

Thyme

Lemon or lime wedges

Garlic cloves

BBQ sauce

Potatoes or corn as a side dish 

Step 1: Prepare the Chicken
Choose a whole, defrosted chicken that is approximately 3 to 4 pounds. A 4-pound chicken is enough to serve two to four people. Remove and discard the neck and giblets from the chicken if it comes with it. Rinse the chicken with cold water inside and out, and pat dry with paper towels. Make sure to thoroughly dry and drain the water from the chicken to achieve that crispy skin when cooking. Set aside.
Step 2: Spice Up the Chicken
One of the exciting parts of preparing the beer can chicken is infusing different spices to enhance its flavor. Get a small bowl and manually prepare the spice rub ingredients. You will need 2 tablespoons of paprika, 1 1/2 tablespoon chili powder, 2 tablespoons ground cumin, 1 tablespoon ground coriander, 1 teaspoon garlic powder, 1 teaspoon sugar, 1 tablespoon freshly ground black pepper and 1 tablespoon salt. Mix the spices in the bowl. Store-bought and ready-to-mix spices can also be used if you prefer it.
Next, take the chicken. Rub some olive oil before rubbing the spices over and under the skin, inside and out. Gently rub the spices all over the breasts, the thighs, the wings, and the insides. Rub the spices thoroughly and push it underneath the skin as far as it can go. Season the chicken generously for a flavorful treat. Set aside.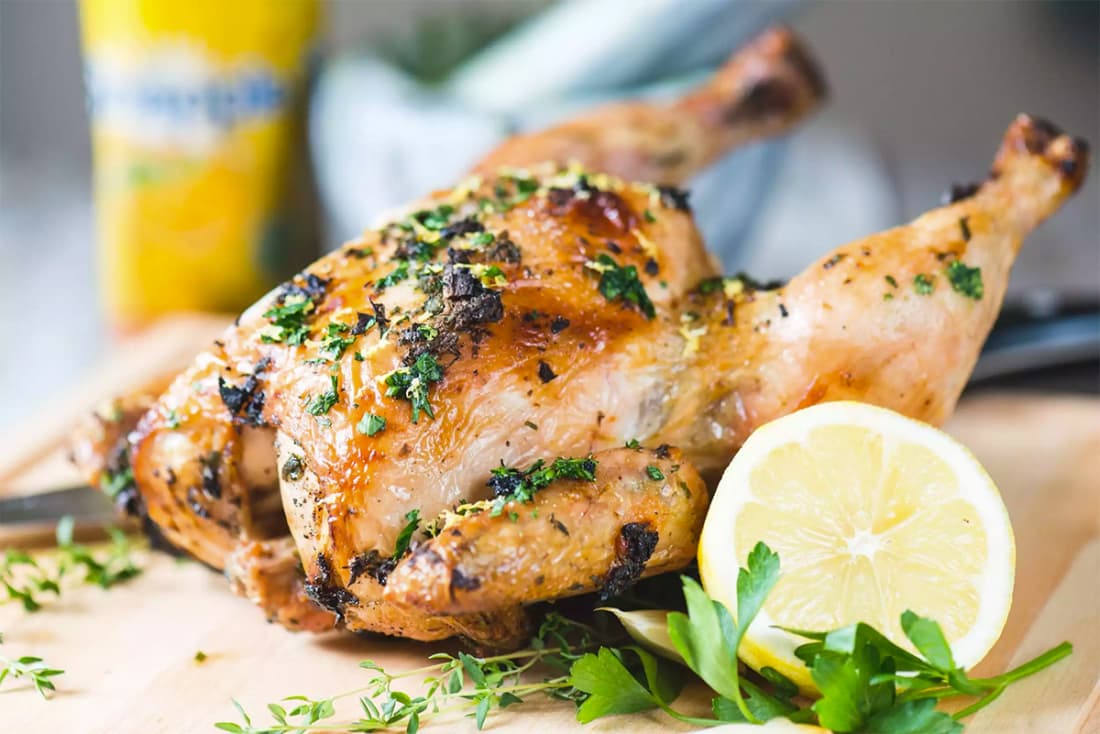 Step 3: Fit the Beer
Open a tall beer can and make sure that it is half-full. One fun part is that you can drink half of the beer from the can! A pale lager would do just fine, avoid the heavily hopped ones unless you want a bitter chicken. Beer is a good steaming agent. The malt and yeast found in beer helps in making the skin thin and crispy, its meat moist and bursting with flavor.
For added flavor, you can put rosemary, thyme, lemon or lime wedges, or garlic cloves inside the can, depending on your own preference. Then, place the beer can on a solid surface. Grab the chicken leg with your hands and slowly, vertically lower its cavity into the open can. The chicken should be in a sitting position with its legs touching down on both sides for stability.
Now that you have your beer can chicken prepped up, the next step is to take it to the grill.
Step 4: Grill the Chicken
Preheat your grill about 350-375 degrees Fahrenheit for medium-high, indirect heat. If you are cooking on a gas grill, turn off half the burner. If you are using a charcoal grill, place the heated coals in a pile and set in on the side. Set up the coal so that it won't be directly under the chicken to avoid burning it.
Take the prepared beer can chicken and carefully transfer it on the preheated grill. Make sure that it is stable once you place it on the grill. You can widen its legs so that it will form a tripod. Shut the lid of the grill tightly. Once in a while, check the chicken and see to it that it cooks on medium-high heat. You can baste it with a sauce of your choice, preferably BBQ sauce, when the meat is nearly cooked.
Wait for approximately 1 hour and 20 minutes for the chicken to cook or until its bone is no longer pink and the juices run clear when poked or slashed with a sharp knife. Another fool-proof way of monitoring if the chicken is fully cooked is taking an instant-read digital thermometer. Insert it into the thickest part of the thigh which should read 180 degrees Fahrenheit. If inserted in the breast area, it should read 165 degrees Fahrenheit. Once it is cooked, turn the grill's heat off.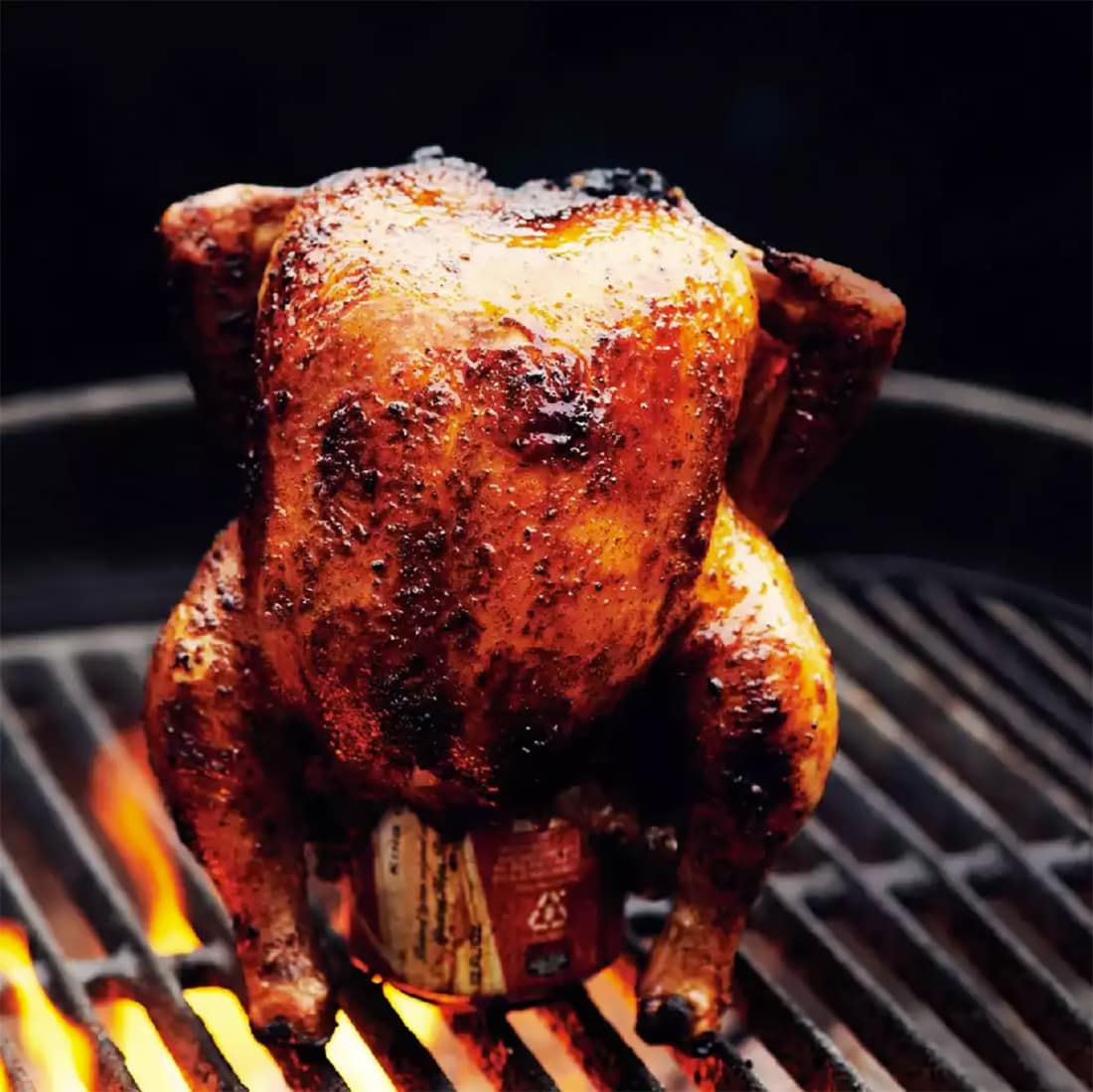 Step 5: Take the Chicken Off the Grill
Your beer can chicken is all cooked and ready to be served. The tricky part is taking the chicken from the grill. Carefully transfer the chicken to a tray or pan using kitchen tongs. Pull out the beer can as safely as possible to avoid spilling hot beer. You can use cooking forks to do the job. Discard the beer can.
Step 6: Serve the Perfect Beer Can Chicken!
Let the fresh off the grill beer can chicken rest for 10-15 minutes before carving and slicing its juicy meat into serving pieces. Throw in some grilled corn cobs or potatoes and serve with BBQ sauce. This golden-brown piece of delicious perfection called as the beer can chicken is ready to be served in any feast.