O'Lunney's Times Square Pub
One of New York City's Finest Irish Establishments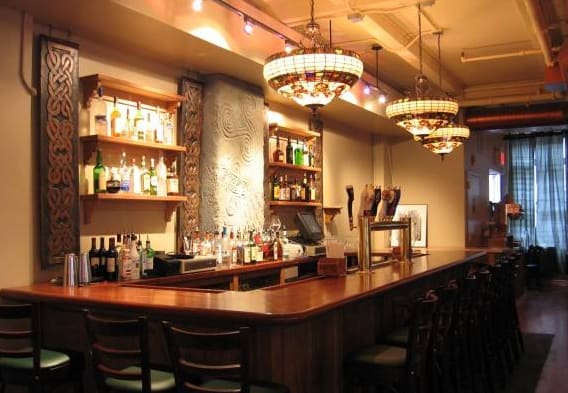 If you find yourself in the heart of the city that doesn't sleep, you've got to venture into O'Lunney's Irish Pub in Times Square. Located at 145 West 45th Street and just a few steps away from the hustle and bustle of Times Square itself, O'Lunney's offers a great atmosphere that possesses all of the aspects of your neighborhood gin mill. To put things in perspective, the establishment has you covered whether you're in the mood for breakfast, lunch, or dinner, and has been recently known to serve its top-notch breakfast menu until four PM on most days.
As a frequent customer and one of the former "locals," the first piece of advice I can give you is to order one of the pub's Bloody Marys, which are more of a "secret menu" item versus some of the traditional beverage options that include fresh brewed coffee and fresh squeezed orange juice. With that said, here's a breakdown of the restaurant's top offerings for each time of the day.
Breakfast:
As is the case with many of New York's finest Irish establishments, one will find a "traditional" breakfast option that's priced at a very affordable $13.95 per plate. O'Lunney's "Traditional" includes Bangers, Rashers, Baked Beans, Eggs, a Grilled Tomato, Black & White Pudding, and a side of their scrumptious french fries. Now, if you want to go and step out of the comfort of a "traditional" breakfast, I'd personally suggest going with the steak & egg dish that's featured as a breakfast special. Priced at $23.95, the steak (an 8oz Black Angus) is chargrilled to just the right temperature and is accompanied by your choice of eggs, veggies, and some of the best french fries you'll taste in all of New York.

Lunch:
When it comes to lunch, the kitchen staff at O'Lunney's presents customers with a super impressive cheeseburger deluxe that will hands down give some of the cities juiciest burgers a run for their money. Priced at $15.95, the chef's perfect blend of seasoning and spices adds an unctuous level of flavor to the classic beef burger which is accompanied by your choice of American, swiss, mozzarella, or cheddar as well as lettuce, tomato, and a side of french fries. Although they're well-known for their burgers, the pub's oven roasted turkey BLT ($14.95) offers up a succulent serving of oven roasted turkey breast, crispy bacon, lettuce, tomato, and mayo that's served up on the bread of your choice. (Shhhh! Don't tell anyone I told you, but it's best served on Rye Bread).
Dinner:
When it comes to ordering dinner, I'm somewhat of a steak snob, and O'Lunney's certainly satisfies that craving by offering its customers two very impeccable options. Kicking things off is a delicious 12oz New York Sirloin ($29.95) that's chargrilled to perfection and accompanied by your choice of potato and vegetable. Backing up the 12oz New York Sirloin is a mouthwatering 8oz Gaelic Steak ($24.95) option that carries a black peppercorn crust and is smothered in a mushroom whiskey glaze that is simply heaven on a plate. Here's a little hint that you're going to want to thank me in person for at a much later date: order a side of Horseradish Sauce. It literally takes the meat to a whole new level.
Now that I've gone ahead and covered the menu, I'm pretty sure it's time to cover the drinks. On every table, and sprawled at various positions along the bar, O'Lunney's beer menu offers up an even amount of bottled and draught beers that cover your taste for anything domestic as well as anything imported. The pricing isn't that far off either, as domestic beer prices range from $6-$8 and imported beer prices range from $7-$10. Additionally, the bar is always fully stocked and mixed drinks can get just as creative as they can throughout some of the most posh places in all of New York City.
So if you ever find yourself in Times Square and need an escape that's just a short distance away from any major hustle & bustle, go check out O'Lunney's and tell them that Ol' Matty Boy sent ya.