No-Bake Eclair Layer Cake
An Easy, Cheap Way to Please the Crowd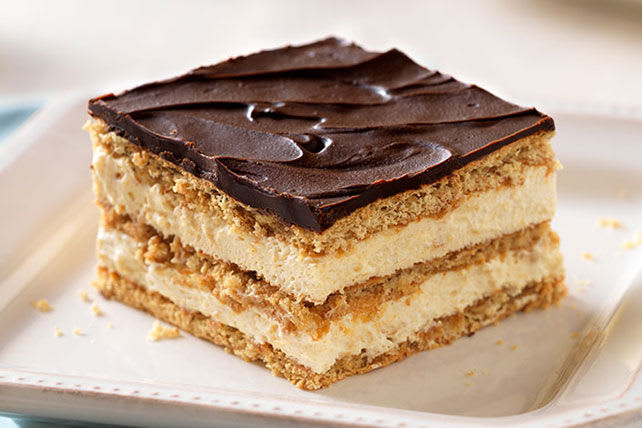 Throw on that apron and throw out that oven; you won't need it with this super easy no-bake layer cake. When I want dessert, I can never decide on just one. Do I want chocolate cake, freshly baked cookies, flakey pastries, or maybe warm donuts? It's even more difficult to find a fast, easy, and cheap dessert to take to that family gathering, or work party, that doesn't present itself as something you just threw together. Ladies and gentlemen, I am here to inform you, I have found the recipe that does just the trick!
I'm a working woman who doesn't exactly have money falling out of my pockets. I don't have the time, or the patience, to make intricate desserts just for them to be gobbled down in ten seconds. With this eclair cake, I make enough to feed a party, and satisfy that sweet tooth; meanwhile not breaking the bank. From the lightly whipped pudding, to the perfect amount of chocolate on top, you can't go wrong with this dessert.
While this dessert has now become a fan-favorite staple in my routine, this would also be an easy, kid-friendly recipe for any parents out there! When I was younger I loved preparing food, of any kind, with my parents and they always tried to find efficient ways to allow me to do so. This recipe takes less than 30 minutes to prepare, while also not using any major kitchen appliances, making it perfect for the little ones!
Without further ado, let's get into the recipe!
INGREDIENTS
One 16 ounce box of Honey Graham Crackers

Two 3.4 ounce packs of i

nstant vanilla pudding (I prefer Jello brand)



3 cups of milk*

8 ounces of cool whip (defrost in microwave in 30 second increments)

16 ounces of chocolate frosting

*For a lactose-free version, try Lactaid or similar brand milk. For a healthier alternative, try skim milk or almond milk. I have only made this recipe with 2% milk and cannot guarantee the results will be the same with other products.
DIRECTIONS
Prep Time: 25 minutes/Set time: 4 hours and 30 minutes
Spray a 9×13 inch pan with non-stick spray.

In a large bowl, combine the pudding mix with milk and whisk vigorously.*

Gently whisk in the cool whip in three equal parts.

Place a layer of graham cracker that covers the bottom of the pan
Pour half of the pudding mixture on to the graham crackers and spread evenly.
Place another layer of graham crackers and then the last half of the pudding mixture.

Add the final layer of graham crackers and top with the chocolate frosting. (I find it's easier to spread if you heat the frosting for 15–30 seconds before applying to the dish.)

*You can also use a spoon or wooden spatula, but I think it mixes more evenly with a whisk. It also seems to leave it fluffier.
Chill when not serving.
I have found the best results come from making the dish the day before your event. I would give it no less than four hours to set before serving. If the dessert does not have the proper time to set, the graham crackers will not properly soften. I believe the setting time does affect the taste and texture of the final product and would highly recommend to always prepare the dish a day in advance.
Now that you know what to do, forget the stress and dig in! I have successfully used this recipe every Christmas for the past three years and it's always a hit. Your kids will love to help make it, and if you don't have kids you'll love the ease of making it! At the end of the day, do you really need to make that three-tier cake with sparklers for your office party? I think most likely not... I hope you enjoy this Eclair Layer Cake the same as my family and I!
Sources: All Recipes/Photo Credit: Cook Diary