New York City's Best Steakhouses
Have you ever experienced a true steakhouse in New York City? If you haven't, you need to plan a trip immediately!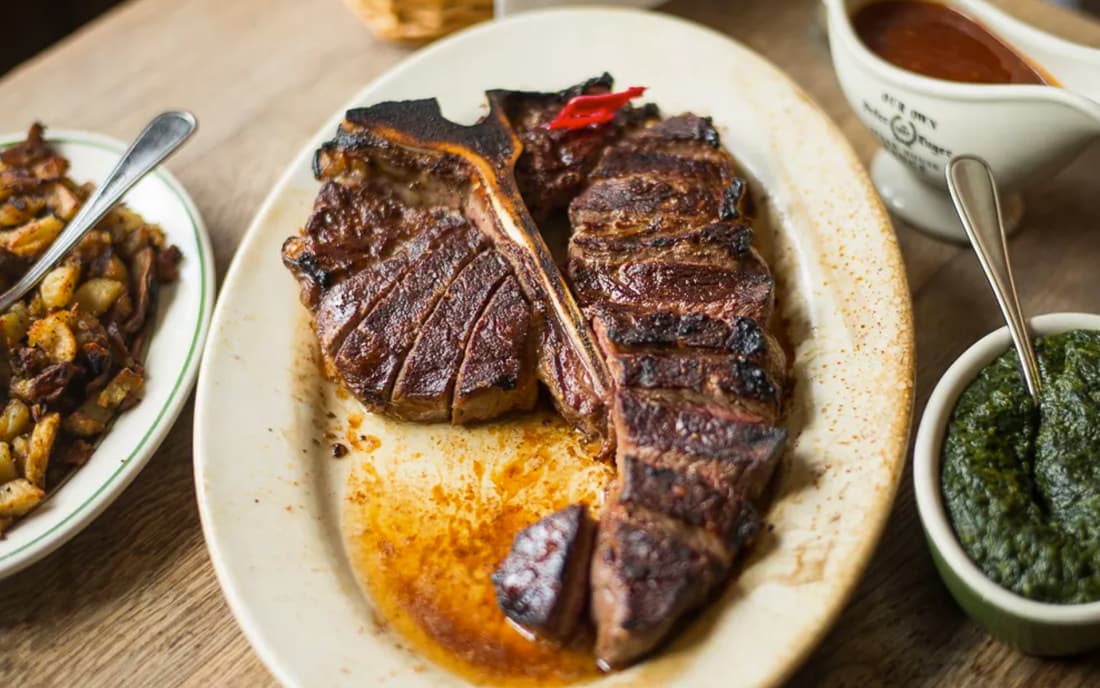 The custom of visiting steakhouses began in the 19th century, when people decided to start gathering at local steakhouses for great food, drinks, and conversations. NYC is critically acclaimed for its incredible variety of steakhouses, but there are also some lackluster ones. To make sure you're visiting the best of the best, we have created this list of some of the best of the best steakhouses NYC has to offer.

Wolfgang's Steakhouse
Many tourists focus the steakhouses in NYC that are household names. Wolfgang's Steakhouse, located in the Gotham Hotel, has a décor unlike any other, with its architecture leaning to that of avant-garde. Towering arcs with an incredible high ceiling set the ambiance to this nationally-renowned restaurant. There are five Wolfgang restaurants throughout NYC to indulge in, serving nothing but masterfully created steaks with all of the appropriate and delicious trimmings. The appetizers consist of a beautiful array of different types of seafood to perfectly compliment the enormous plates of seared steak and chops.
Peter Luger Steak House
According to Zagats Restaurant Reviews, the honorable award for the best steakhouse in NYC has been awarded to Peter Luger Steak House. The food was awarded an incredible 4.8 out of 5 stars by the locals as well as tourists. This particular steakhouse has been coined a "monument to meat." They only accept cash, so leave the plastic at home!
Porter House Bar and Grill
Another fabulous NYC steakhouse that has won many awards and is critically acclaimed is Porter House Bar and Grill. What separates this steakhouse from the others is the chef's keen sense for cooking a large slab of meat to sheer perfection. Fork-tender and juicy meats matched with the perfect cocktail from the full-service bar create a delicious, full-belly meal. Chef and Owner Michael Lomonaco states that "EVERY GREAT AND ICONIC AMERICAN DISH HAS A STORY TO TELL." With a wide array of dishes like Siberian Caviar and 2 lbs of freshwater lobster, there is something to satisfy even the pickiest eaters.
Benjamin Steak House
If you are looking for a similar menu to the traditional steakhouse but with a more upscale feel, Benjamin Steak House has updated interior with a blazing fireplace to set the perfect ambiance. Whereas this menu is certainly not on the cheaper side, the top-shelf selections of meat and paired cocktails are the main reason people come out of the woodwork to experience this restaurant.
Del Frisco's Double Eagle Steak House
Del Frisco's Double Eagle Steak House in NYC delivers all-American cuisine, from the best cuts of steak to the homemade mashed potatoes smothered in gravy. The prices are definitely not cheap but quality service and fresh ingredients shouldn't be. The bone-in filet mignon and rib eye each come with a hefty price tag but are sure to please! The acclaimed side dish of king crab gnocchi is a fan favorite along with the generous portions that are offered. Every month, Del Frisco's offers a new selection of featured wine which is paired perfectly with their season-based menu.

American Cut
American Cut is the epitome of old-school steakhouse, but with an eclectic new-age twist! Chef Marc Forgione is the youngest winner in the history of The Next Iron Chef on the Food Network. Therefore, it is safe to say that he offers up a hell of an authentic cuisine at his steakhouse. Fox News also stated that this beautiful joint is rated the number one steakhouse in America in their book. There are four locations for this restaurant, even one in San Juan, Puerto Rico. The delicious slabs of meat that are offered are a 14 oz. NY Strip, a whopping 40 oz. Porterhouse for two, a 20 oz. bone-in Ribeye and a 20 oz. bone-in chateaubriand Filet Mignon for two. Finish off one of these huge portions with a delicious homemade Milk Chocolate Semifreddo for two or an original Cracker Jack Sundae.
Fogo de Chão
Fogo de Chão is a Brazilian steakhouse that practices centuries-old traditional preparation of large portions of meat. From chicken, lamb, and pork to the succulent steak, all types of meat are slow roasted to infuse their own natural flavor, just like the real gauchos of Brazil practice. The wine selection in this NYC steakhouse is both award winning and ground-breaking. A Market Table is offered that is solely inspired by the markets in Brazil, offering the freshest ingredients and vegetables. There are over 20 cuts of meat that are offered and brought to your table side on ginormous skewers, which really ignites a radically new dining experience in beautiful NYC.
Lincoln Square Steak
Lincoln Square Steak is a delicious steakhouse in NYC that won the critically-acclaimed Diners Choice Award in 2015. The décor is that of pure nostalgia, redirecting the mind back to the wonderful era of the 1960s. There is live entertainment every evening beginning at 7:00 PM while diners indulge in the raw bar as well as 14 different cuts of deliciously prepared cuts of meat. There are a wide variety of options for seafood lovers as well, including Wild King Salmon and Chilean Sea Bass. There is also an Italian family-style menu for two or more as well a slew of sides and hand-crafted desserts.
The best steakhouses in NYC will undoubtedly continue to evolve and grow as time moves on. Whether you are looking for an old-school steakhouse or an upgraded, upscale evening out, there will always be a place you are sure to be spoiled in. Treat yourself to one of the many choices of steakhouses, but look no further than these cream of the crop NYC steakhouses do satisfy that meat hankering!