Feast is powered by Vocal.
Vocal is a platform that provides storytelling tools and engaged communities for writers, musicians, filmmakers, podcasters, and other creators to get discovered and fund their creativity.
How does Vocal work?
Creators share their stories on Vocal's communities. In return, creators earn money when they are tipped and when their stories are read.
How do I join Vocal?
Vocal welcomes creators of all shapes and sizes. Join for free and start creating.
To learn more about Vocal, visit our resources.
Show less
How to Win Food Awards
Tips from a food judge.

Everyone loves an award - it's great to receive an endorsement of your hard work, product, and your business. While time is always tight making the effort to enter a well-chosen award can really pay off.
I love seeing what's new in the foodie world, who has something new different and fresh, but also who has been true to their ethics and values who has managed to maintain the standards so I really look forward to judging the Food and Drink Awards each year
This year so far, I have judged for the Academy of Chocolate Awards and Great Taste Awards, tasting more than 400 different products.
It is not just about the products being delicious, but about them being the best in lots of other ways. Yes, taste is key, but also about skills and full execution particularly in chocolate. Texture also plays a very important role. The description of the product can be vital and must truly do it justice its sometime all the judges have to go on.
We all buy with our eyes and decoration that catches the eye can demonstrate the artisan's skill and tempt us to buy it.
Over the 3-month judging period the 500 or so great taste judges evaluate more than 10,000 products from fine chocolate truffles to instant drinking chocolates pies, cheese with truffle salad to steak. Every product is given the respect it deserves, regardless of complexity, with a guide to tasting and years of experience in food.
All the products are blind tested with all logos removed, I have even seen chocolate bars with the logo melted off (not good for the chocolate). Each product is assessed on unwrapped appearance and taste or as a whole offering to consumers, who we know take more than just taste into account when they make their purchases. Naturally, the products must taste great, and they will be sampled, and examined, and feedback will be given.
This feedback can be so useful for continuing improvement; I often see products who applied the advice given by judges coming back to win an award the following year.
Some really good products miss the cut because of woolly or incorrect cooking instructions. Great Taste for example has a team of chefs on hand to cook, reheat or chill. They will follow your instructions to the letter but the cannot read your mind, make the most of the opportunity. It's a cost effective benchmarking tool, use it as such.
This year could be your year to win an award. Good luck to you all!
What each star means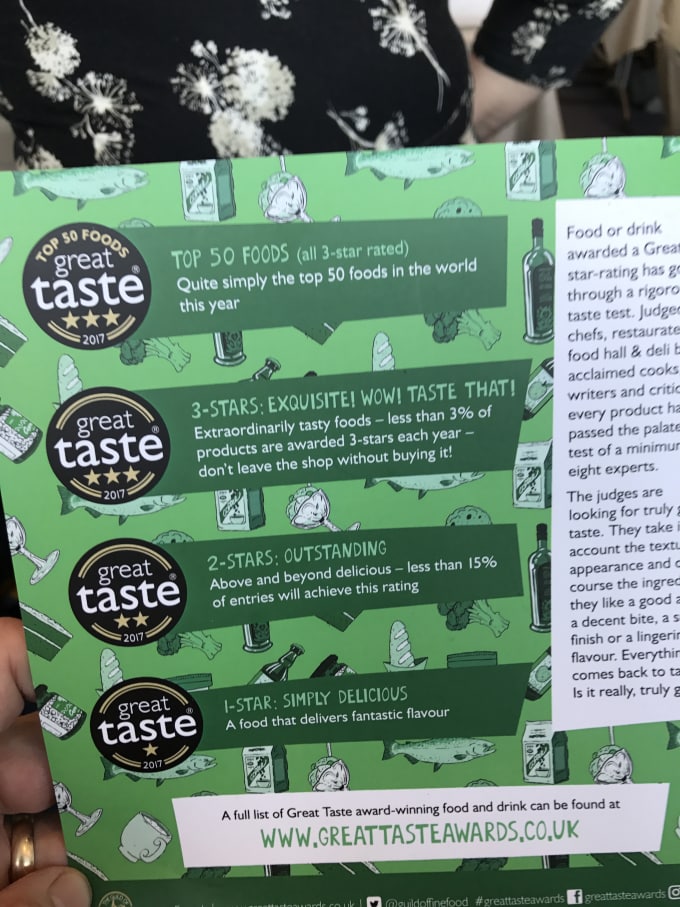 8 top tips from a judge for entering food awards:
Understand the process
The Great Taste awards are judged blind - your product alone has to be outstanding in order to wow the judges. Packaging can be as a cleaver and eye catching as you want, but the food that it contains has to be able to hold its own when it counts.


Most suitable product
Look long and hard at the products you plan to enter and ask yourself, do they deliver? Don't just take a lucky dip of ten products and enter them because you need to enter them, but look at your existing ranges that have been in place for a while. Many of us judges know products that we think are outstanding but we never see them presented to us. Sometimes the best of what you have is not the new product but the longstanding one that is staring you in the face.


Most suitable category
Give your product the best shot possible. Enter the product into the most suitable category to make sure that it can be judged against other products in the category. Don't enter multiples of the same product - flooding the competition doesn't guarantee success.


Product descriptions
Avoid terms like "local". local to who? Provenance is important today so tell us where it is from and who did it, not just milk from our cows. It could be "organic milk from our own Jersey cows"


Serving suggestions
Make appropriate serving suggestions but you need to send it in. If you are sending in a pesto sauce you could consider sending in some top quality fresh pasta (unflavoured). You want the sauce to be the star of the plate.


Cooking instructions,
Make sure you test these until you are 100% sure they work, the chef will follow your instructions to the letter. Often, the cooking duration or temperature stated is what has let the product down during tasting.


Delivery deadlines
Make sure you meet the delivery guidelines. It's a lengthy process so give yourself the best possible chance, double check all the labels don't forget to put a copy of your entry in the box and stick to the delivery dates times and instructions to ensure your product can be judged fairly and equally among its peers. If it's traveling a long way make sure the packaging is appropriate and give protection from the elements.


Use the competition feedback
Judges will always look for the best in any product use their comments to finesse or rework a product. Some great products miss the mark because of incorrect cooking times. Make the most of the opportunity. It's a really effective bench-marking tool. Everyone loves an award - it's great to receive an endorsement of your hard work, product, and your business. While time is always tight making the effort to enter a well-chosen award can really pay off.
Know the criteria