How To Make Cupcakes
Recipe for 12 Big Cupcakes!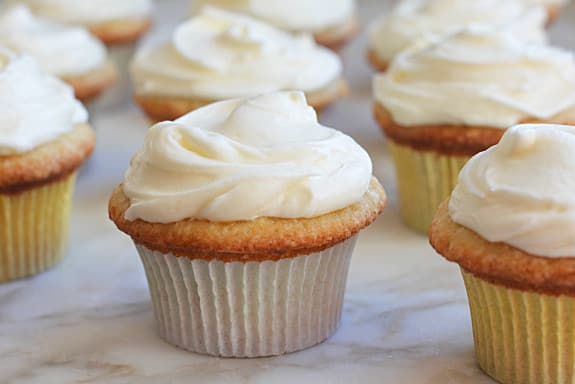 Warning! This recipe is for a 1 1/2 batch of cupcakes. Therefore, they will be big; not dainty things. They'll almost be a singular desert by themselves.
If you want smaller results, switch all the 6oz measurements to 4oz and add 2 eggs, 1 teaspoon of baking powder; easy when you know how.
You Will Need
1 big bowl

1 fork or electric mixer

Some weighing scales

1 sieve (optional) for dry ingredients.

2 spoons

1 twelve-hole muffin tray (or cupcake tin)

12 paper cupcake cases

1 wire rack (optional)

Ingredients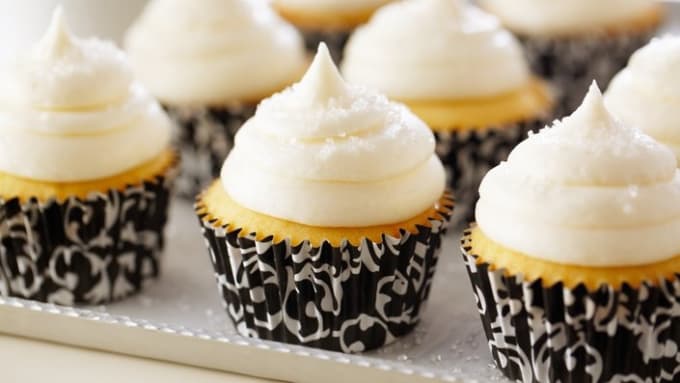 6oz/170g (3/4 cup) of softened butter (left out of the fridge for at least an hour)

6oz/170g (3/4 cup) of caster sugar (white or brown works just fine)

6oz/170g (3/4 cup) of self-raising flour

3 large eggs

1 (and a half) teaspoons of baking powder

1 teaspoon of vanilla extract (optional)

Method
Preheat that oven! (gas mark 4/180C/350F) and line that tin with some paper cases already!
'Cream' (mix until a consistent color and texture) the butter and sugar together using a fork or electric mixer (if you're lazy, like me).
Add the flour and eggs, in any order, and stir until the mixture comes together (don't worry about lumps right now).
Add the vanilla extract (or any other flavorings you would like) and baking powder.
Stir until the mixture is smoother than Barry White's voice and fill up those cases 3/4 of the way full using a spoon or two.
Bake those bad boys for 20 minutes or until golden brown and firm.
Top it all off with some icing if you made some (recipe below) with a fancy piping bag or just a knife.
Eat your way through them in record time.
Buttercream Icing (Bonus)
You Will Need
1 mixing bowl

1 fork or electric mixer

Ingredients

5oz/140g of softened butter

10oz/280g of icing sugar

Food colouring (optional)

Method

Mix the butter and sugar together until you reach a consistent colour and consistency.

If you're using a fork, the method of mixing is very similar to the way you mixed the butter and sugar earlier.

That's it! Add some sprinkles if you feel like it!

Wanna Make it Chocolate?
If you want chocolate cupcakes, only use 150g of flour and add 20g of cocoa powder.
As for the icing, only add 250g of icing sugar and add 30g of cocoa powder.
Tip:
Use Cadbury's Bourneville cocoa powder, in my experience, it's better than anything else out there.
Some Ideas for Stunning Cakes
I know this recipe is simple, but with a few adjustments, you can make some epic cupcake showstoppers quite easily. Here are some ideas to jazz up your creations:
Add in Some Extras
While mixing the batter, there is a missed opportunity to jazz up the tasty-ness of the cupcakes. Why not add some flavorings (it doesn't have to be vanilla or chocolate)? Branch out with lemon and orange zest, or choose the floral route and add rose and lavender (oh la la) or you could even just chuck in some chocolate chips.

Secret Surprise
Use a knife to take out the top and middle of a cake. Leaving a well which you can fill with whatever you like; sprinkles, chocolate sauce, and whipped cream for instance. I've even heard of people lining the well with chocolate and using the cupcake as a shot glass for milk or Baileys.

Decoration
People eat with their eyes. That's a fact (I think). So maybe spend a little more time decorating your cakes. Add some food colouring to the icing, some sprinkles maybe? Perhaps even going as far as piping the icing on, making it look like a flower or seashells. When they start to look stunning, you'll see it's worth the effort.

Remember
The first time you decorate cakes, they're not going to look fantastic, this sort of thing takes practice. Just try not to be discouraged if this is your first time trying to make something look great and it doesn't turn out how you hoped. Practice makes perfect!