'Embellished' Avo Toast
A Pumped-up Version of Instagram's Favourite Dish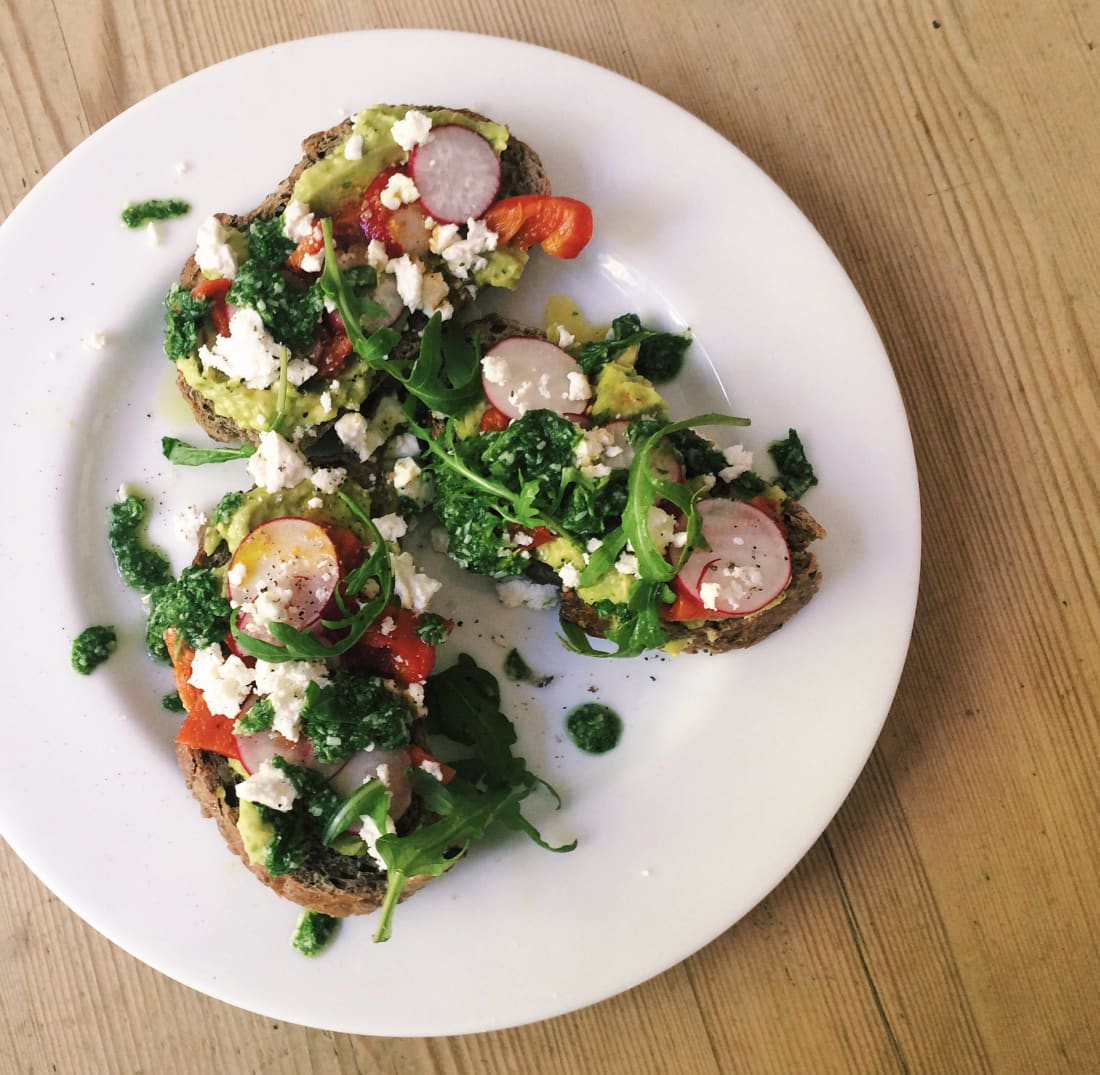 Toast. It's heartwarming, humble, wholesome simplicity at any time of day. Hot buttered toast before bed or honey-laden in the morning with a coffee—toast is a simple pleasure, like a warm hug.
Whilst this recipe might not adhere to the traditional simplicity of the hot buttered toast that we all know and love, this "embellished" avocado toast offers something quite special— vibrant springy colour, zesty flavour and a mouthful of delightfully well-suited fresh and rich deliciousness (there's no other way to describe it!). It makes for the most impressive and easy brunch out there.
It's common knowledge now that smashed avocado on toast has risen to fame and adorns the menus of almost all independent cafes and eateries around (as well as feeds of Instagram accounts worldwide, alongside the trendy flat white coffee art shot—we've all seen it!). My version of the notorious "avo toast" is different every time and unbeatable. It's very dependent on what I have in the fridge that day (granted, on this day the fridge was unusually well-stocked). But the basics of good bread (e.g. sourdough) and a ripe avocado are your main foundations, everything else is additional—but darn good additions I might add. Okay, pre-amble over. Let's get on with the recipe...
What you'll need:
Wholemeal/rye/sourdough bread

1 Avocado

Grilled peppers (I like the ones in the jar, but by all means grill yourself)

Couple of radishes

A few rocket leaves

A small crumble of feta

Half a lemon

Cracked black pepper

Maldon sea salt

Chilli flakes
For the pesto dressing:
A large handful of basil

A drizzle of olive oil

Vegetarian parmesan/hard cheese

Pine Nuts

What to do:
First, I make the pesto dressing. So, in a blender, I add the basil, a large drizzle of olive oil, a small handful of grated parmesan (I use vegetarian), a dash of lemon and a small handful of pine-nuts. I blend until almost smooth and I add some salt and pepper to taste (the parmesan is quite salty, so you won't need much salt), Tip: Always taste, you want to get the seasoning just right for this. Mix all that together, et voila—the pesto is complete!
Next, I toast the bread, usually 2/3 small slices suffice for 1 serving, so adjust as necessary. I would recommend a sourdough or rye—they have a great texture to compliment the glorious toppings that will adorn the toast shortly.
To "smash" the ripe avo, I do just that... smash. Spoon the pulp into a bowl, add the lemon juice, salt, pepper and a sprinkle of chilli flakes (again adjust to your taste). Smash with a fork until almost smooth (I like a few chunks in mine but smash away to your own tastes). When the toast is ready just smooth on the avo-mix (and don't be stingy— pile it on!).
Then, I add a few slices of the grilled pepper and slices of fresh crisp radish. I crumble on some feta and drizzle the pesto over. Next, garnish with some rocket leaves. It honestly wouldn't be hard to make this vegan-friendly—just lose the parmesan in the pesto and add some cashews instead— it tastes just as delish! And just lose the feta; there's enough on there to keep you going. Cheese is not totally necessary (but it's a nice extra).
There are so many variations of this recipe, so don't feel you have to stick to it resolutely— see what you've already got and experiment... but there's no denying that this combo does work a treat!
Final step— Enjoy it!