Best Side Dishes for Lamb
Choosing lamb as a main course is easy, but picking the best side dishes for lamb may not be as simple.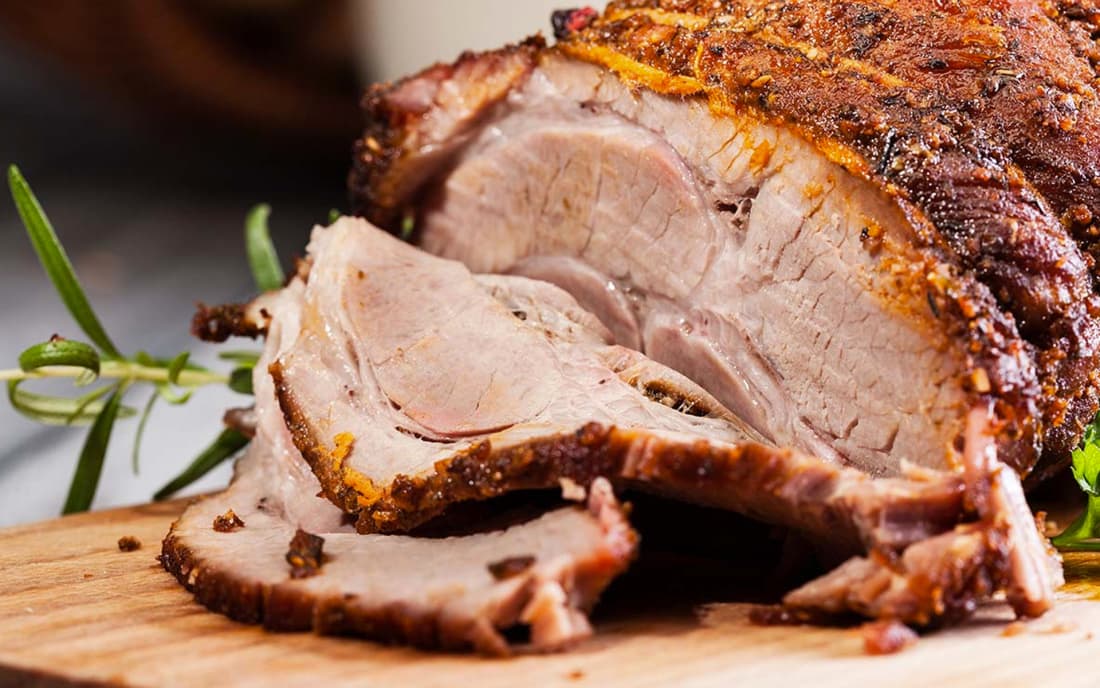 Especially during the Easter season, lamb is one of the most popular entrees served at parties, get togethers and family holiday dinners. While selecting lamb as the centerpiece may be a simple, straight forward decision, choosing what to put alongside it never is. Because of the consistency of lamb and it's incredible versatility there is a seemingly endless selection of sides that compliment it well.
Choosing between all these sides is a daunting task and often leads to stagnation and simply settling on the familiar instead of trying something new or different.
This article aims to help in the selection of sides to go with succulent lamb. We all know that side dishes can and often do accentuate and even in some cases surpass the main feature in popularity at family gatherings and other social events.
Below is a list of 10-sides that go excellent with this holiday favorite.
Couscous Salad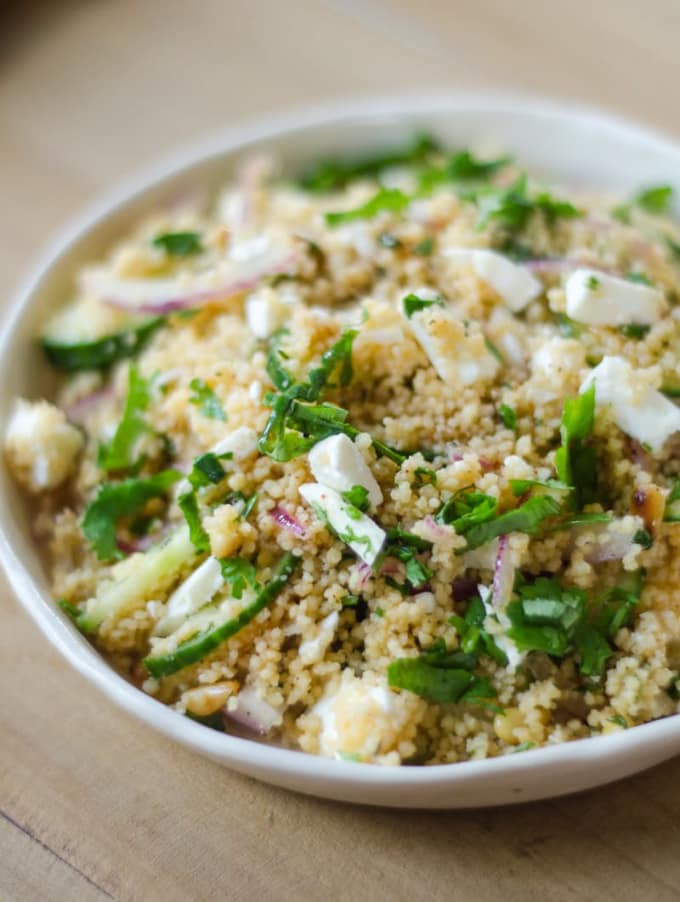 The popular rice-type side can itself be a blank canvas for endless mixtures and combinations. In this case however, we are suggesting mixing it with cucumbers, red onions and herbs. The earthiness of the onions and herbs, combined with the crunchy watery snap of the cucumber underpinned by the slightly salty, grainy couscous is sure to compliment the savory lamb.
Get the recipe here.
Roasted Red Potatoes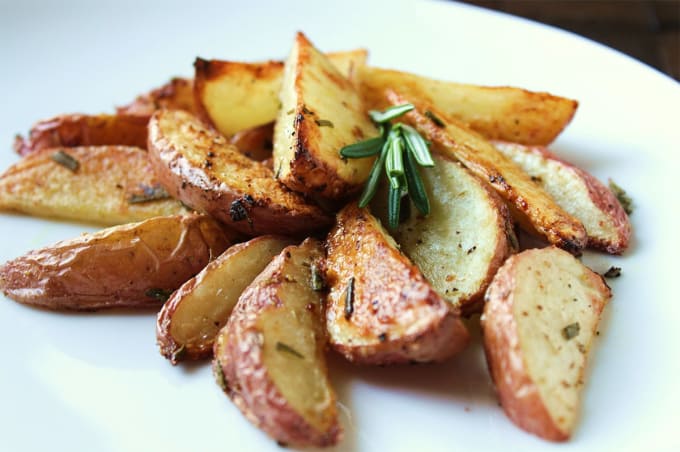 Ok not exactly creative, but boy are they good. In fact, we thought no lamb-side-dish-list would be complete without them. Famous and commonplace, these super spuds need no introduction, nor a long description of how to prepare or what they taste like. So we won't belabor this entry; just know we couldn't complete this list without them.
Get the recipe here.
Golden Quinoa Salad with Lemon Dill & Avocado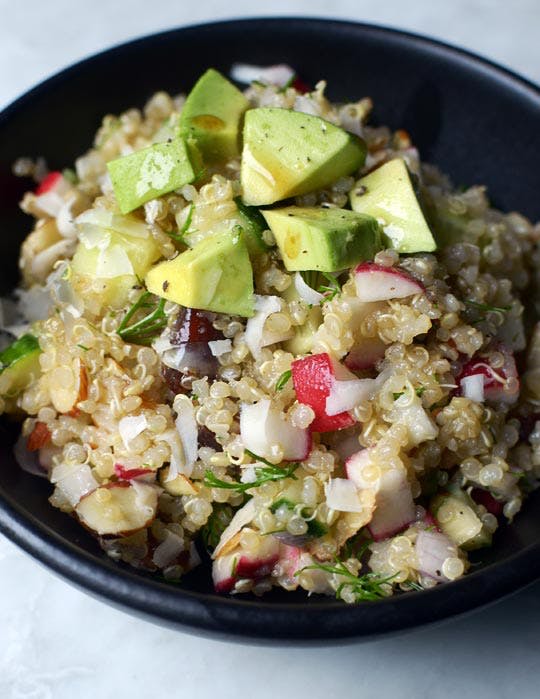 Looking for something lighter? Perhaps more veggie-based? Here is a creative salad that is sure to surprise and delight. It doesn't hurt that it contains one of the true super foods (avocado) and is a great mix of bitter onion, creamy avocado and earthy dill. Mixed together it creates an amazing compliment to the lamb.
Get the recipe here.
Parker House Rolls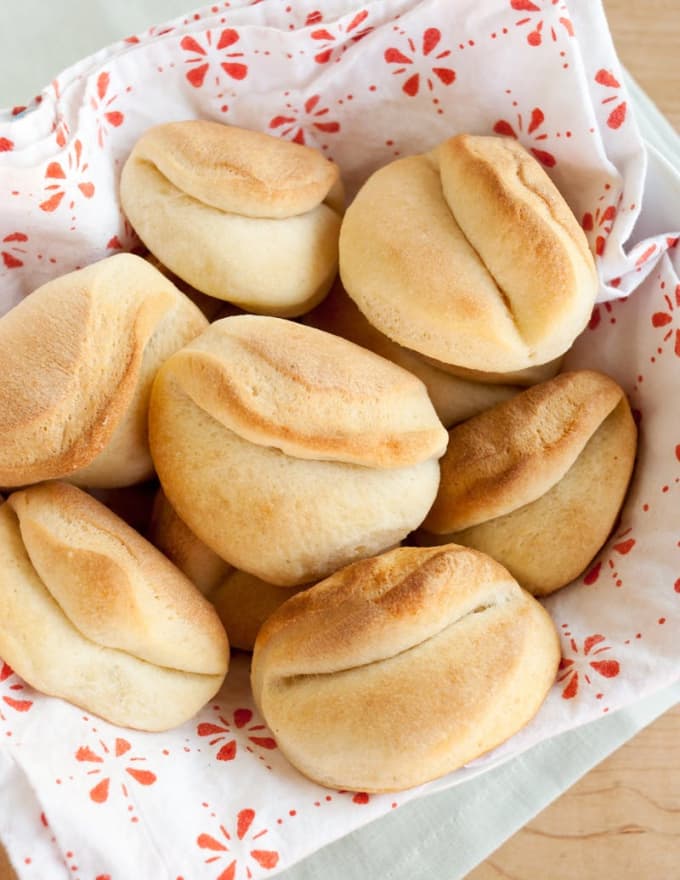 Who doesn't love a good biscuit or roll with dinner? A southern tradition, and one that the rest of the country happily partakes in, many people even make their own rolls and biscuits from scratch. The doughy buttery, filling biscuit is an American classic and a welcome sight at any dinner table. Add in some lamb and you have yourself as authentic an American Easter dinner as you can possibly imagine. Overly creative? Perhaps not, but it will make your guests and loved ones happy so who cares?
Get the recipe here.
Coleslaw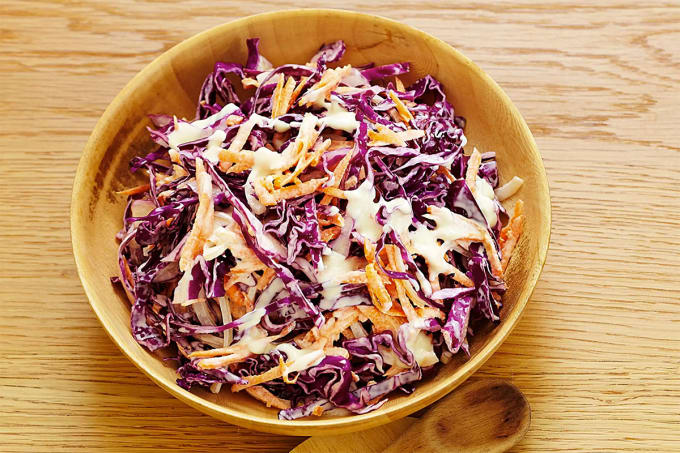 Another classic, served predominately at backyard BBQs and during hot summer months, coleslaw goes very well with lamb. Of course there are any number of ways to make coleslaw, but for artistic reasons, we suggest red cabbage as it adds some color to the plate. Add in your favorite mayo, some chopped onions, carrots and perhaps a little seasoning and you got yourself one heck of a side dish.
Get the recipe here.
Hasselback Potatoes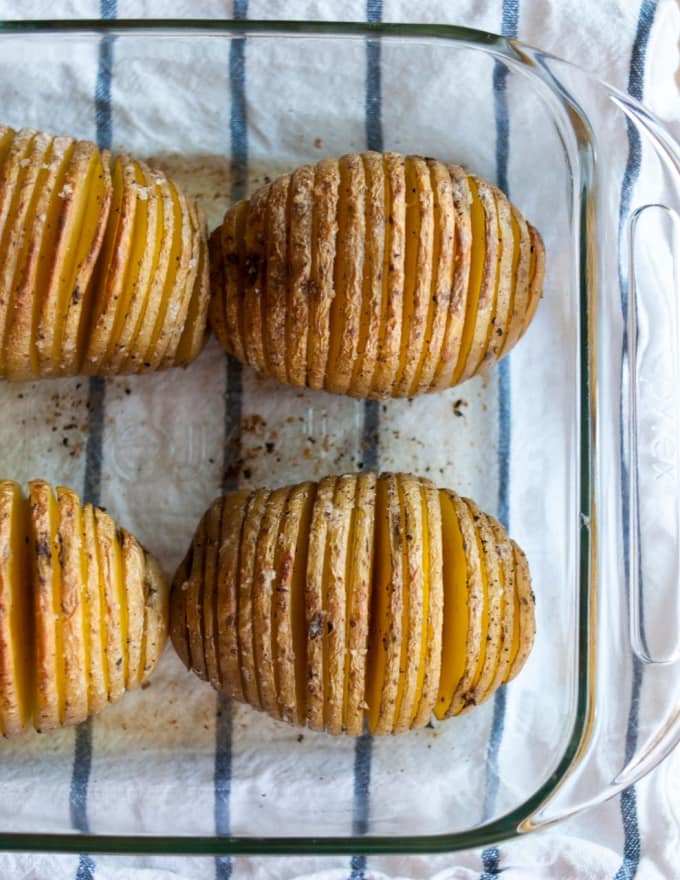 Another holiday favorite and another entry for the spuds. These potatoes visually go really well with sliced lamb due to their golden brown color, and similar slice marks when done in the traditional fashion as pictured above. Garnish with your favorite leafy green and you're all set to go with this quick and popular side.
Get the recipe here.
Smoky Creamed Kale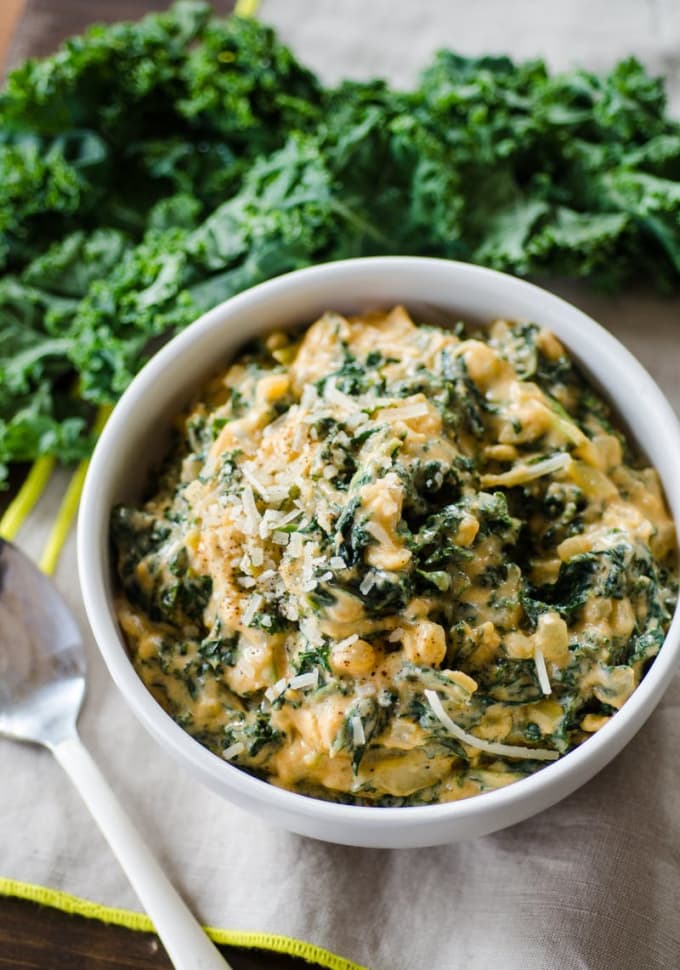 Let's be honest, kale is not exactly an exciting food. It's a food most of us eat because we think we are supposed to, kind of like taking your vitamins when you're a kid. But now you add in some cream and a little smoky flavor? Now you got yourself a deal. The mix of colors and flavors in this dish really compliment the lamb well, coupled with the veggies you have an excellent contrast that culinary experts constantly search for.
Get the recipe here.
Greek-Style Braised Green Beans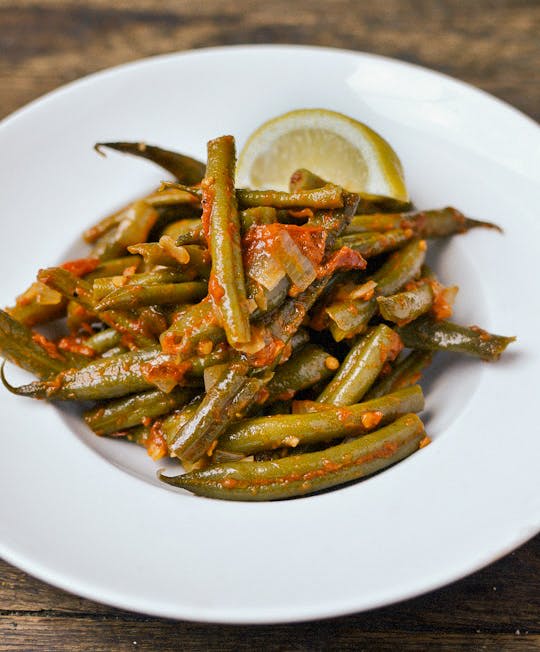 While these sound and look seriously awesome, has it ever struck anyone how many ethnic backgrounds green beans seem to have? Seriously? Why are green beans not just a food but also have a ethnic heritage? Anyway I digress. This dish with it's crunch and snap of the green beans and zest of the lemon really adds a great flavor pallet alongside the lamb. Add in the seasoning of the braise and you have yourself a unique take on a classic side that is sure to surprise and delight.
Get the recipe here.
Spinach Salad with Warm Brown Butter Dressing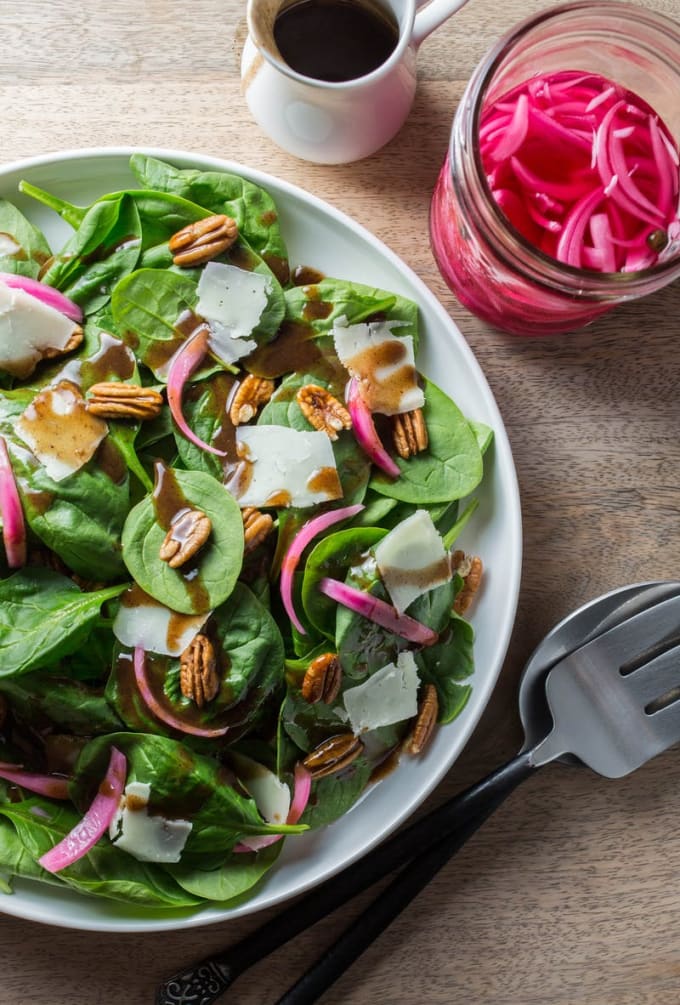 I know a lot of green and a lot of salad, but hey carnivore friends, you have lamb as the main dish so you can't be too upset. Mixing the green of the spinach with some red onions, crunchy pecans and the sweetness of honey and you have a mouthwatering salad, with just the right amount of crunch to keep us carnivores engaged.
Get the recipe here.
Asparagus Ribbons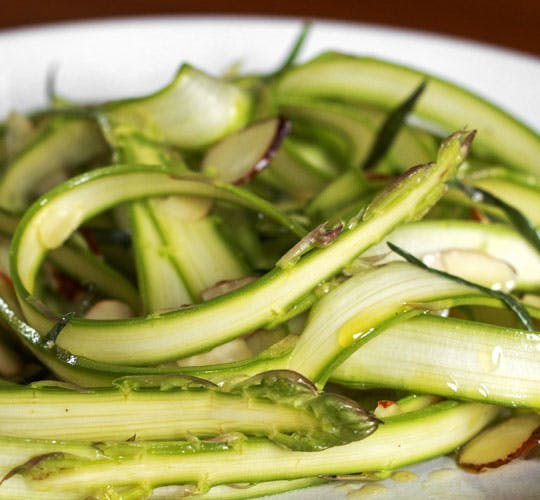 Simple, raw asparagus. Not your typical first or second thought, but certainly a winner with the right crowd. Wash it, perhaps put some pistachios or other shaved nuts on top as a garnishment and enjoy!
Get the recipe here.