Best Grilled Desserts Made With Fruit
A foodie talks about the best grilled desserts made with fruit ingredients.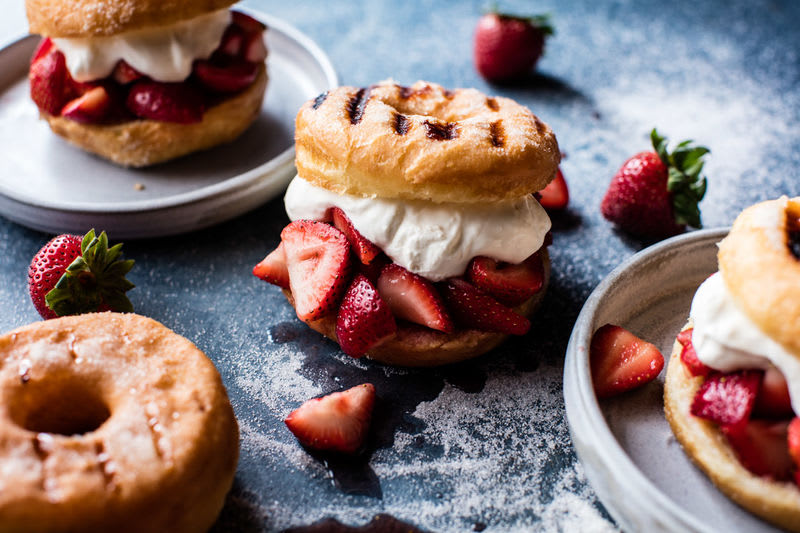 Summertime is here, and that means it's grilling season. For most people, a grilling cookout means that you will end up with savory meals like steak, burgers, hot dogs, or shish kebabs. But, desserts on the grill? Well, they tend to take a backseat — if people even think about them at all.
The truth is that there are a number of incredible desserts you can make on a barbecue grill. As a foodie, I've personally become enamored with grilled desserts.
Though all grilled desserts are great, there are some that are fruit-based that really blew my mind away. Here are my picks for the best grilled desserts made with fruit.
Grilled Pineapple With Coconut Sorbet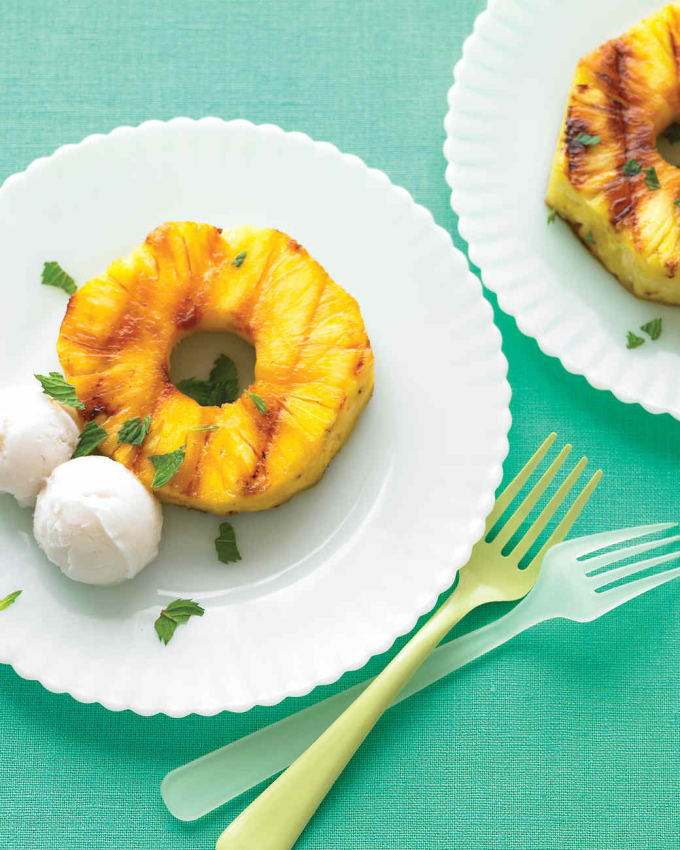 Grilled fruits can be one of the most delicious, mouthwatering, and juicy treats you'll try this summer, if you give them a chance! Grilled pineapple happens to be one of the best picks, primarily because the heat helps release the sugars of the fruit while keeping a lot of the juices in.
If you grill pineapple the right way, you end up with a smoky yet sweet treat that literally melts in your mouth. When you top grilled pineapple with a scoop of coconut sorbet, you end up with an incredible tiki treat that screams summer and cools you down in the best way possible.
Yes, this might be one of the best grilled desserts made with fruit you'll ever try. It is that good — and it's light!
You can learn how to make Grilled Pineapple with Coconut Sorbet here.
Cake & Berry Campfire Cobbler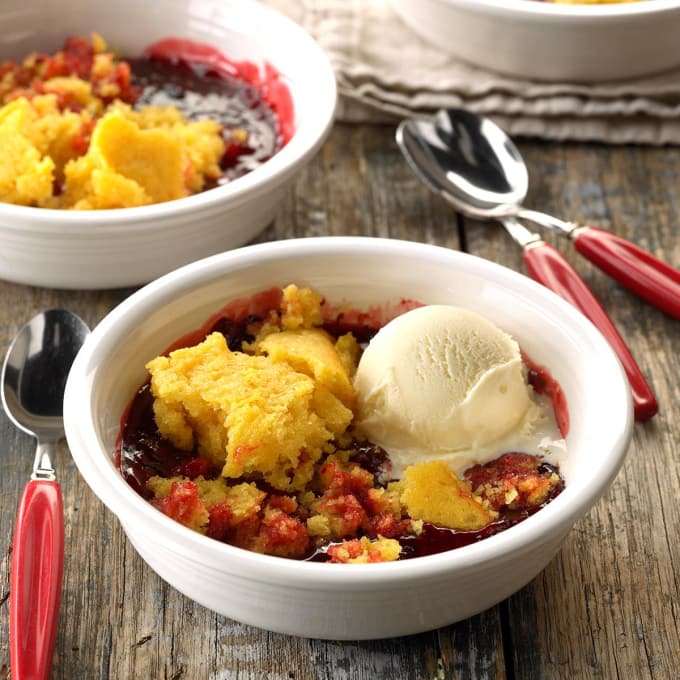 Most people out there would never think to grill cakes, but don't knock it until you try it. This delicious cobbler comes out gooey, crispy, and incredibly tasty.
For cake lovers, this is one of the best grilled desserts they'll ever try. It may even convince them that the best grilled desserts made with fruit are better than their favorite tortes.
Though the typical recipe will involve raspberry pie filling, you can substitute almost any berry pie filling you want and still get a great dessert. Better still, this recipe is deceptively easy to make — and will impress everyone who tries it.
Obviously, you can't make a cobbler on a grill by placing the items directly on top of the grill grate. You will need specialized grilling gear, specifically, a high quality Dutch Oven.
If you have the equipment, you can give this recipe a go.
The recipe for Cake & Berry Campfire Cobbler can be found online, and is well worth a look.
Grilled Pineapple Sundaes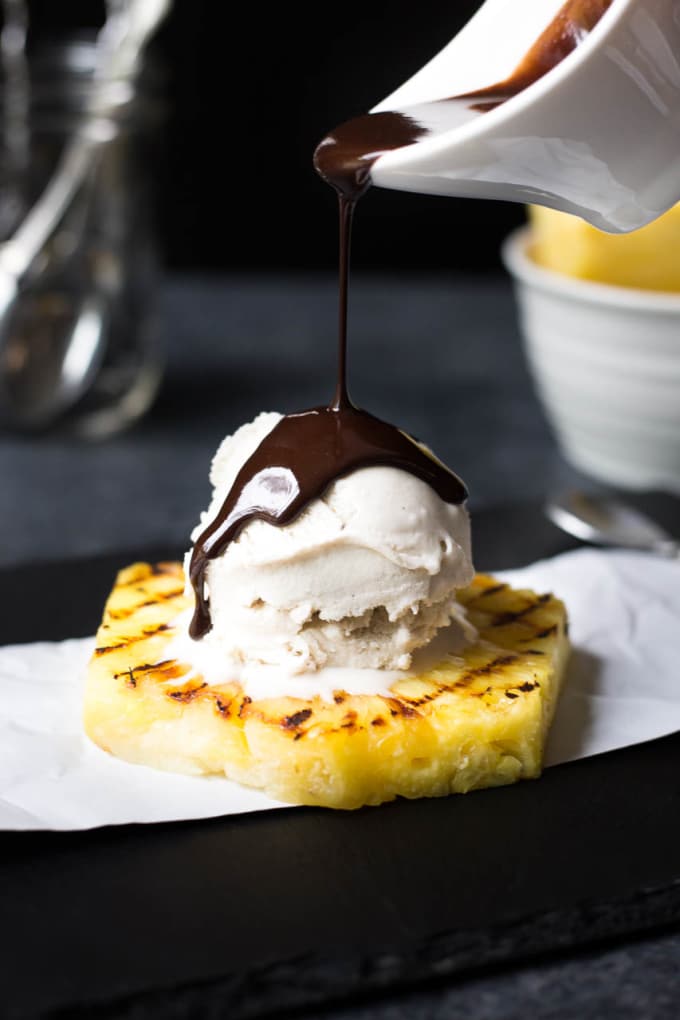 Yes, grilled fruits and ice cream go hand in hand. This is why the best grilled desserts made with fruit often include ice cream in their ingredients lists.
Once again, grilled pineapple can make for an incredible base to any chilled out dessert. This particular recipe is one of the best summer recipes for people who loved the coconut ice cream topping, but want to kick up the dessert factor a couple of notches higher.
With grilled pineapple sundaes, you also get to add some caramel-like dulce de leche, shredded coconut, and of course, some standard vanilla ice cream to the mix. We also suggest adding crumbled graham crackers on top. This is one of the best grilled desserts for the summer.
Delish came up with a great recipe for Grilled Pineapple Sundaes worth checking out.
Grilled Pound Cake With Cherry Compote
While it's not always easy to grill cakes, it is possible to do — and the results can be phenomenal, making it one of the best grilled desserts. Pound cakes take particularly well to the grill, and when exposed to the right level of heat, quickly become a deliciously crispy dessert base.
You don't need to make pound cake from scratch in order to make this dessert. All you really need is some store-bought pound cake, and some other store-bought goods, and a grill. If you follow the recipe well, you'll end up with one of the best grilled desserts made with fruit you'll taste.
This surprisingly easy recipe for grilled pound cake looks like it was prepared by a chef, tastes incredible, and also works well with the heat.
Grilled Donuts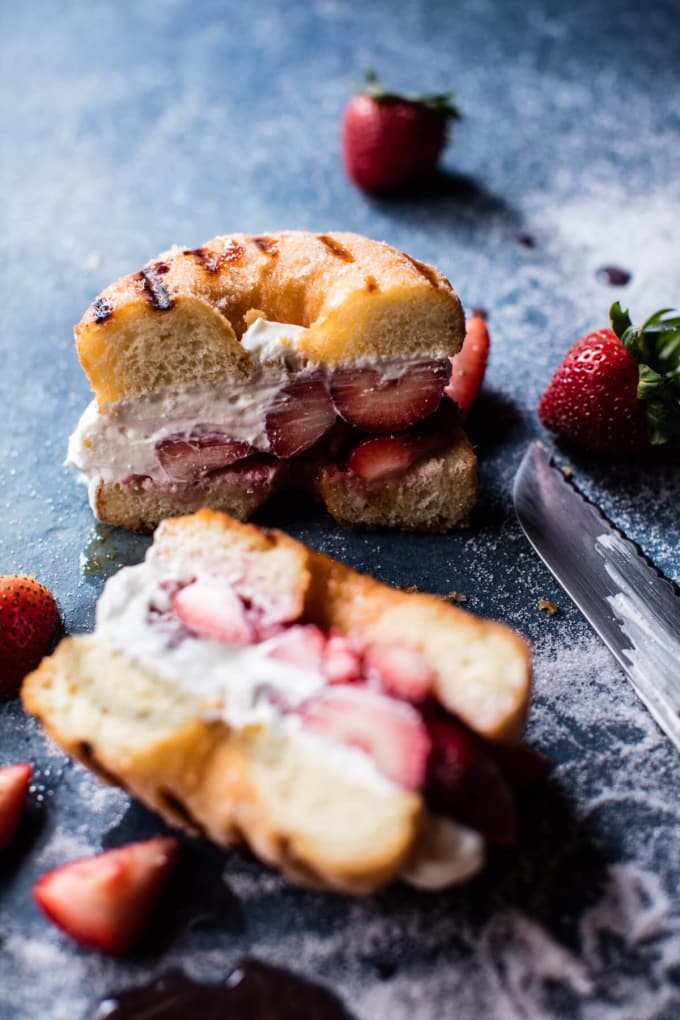 Donuts are delicious on their own. In fact, they are designed to be superb desserts and breakfasts. So, what happens if you stick donuts from your favorite donut chain on the grill?
Amazing things can happen, that's what!
Grilled donuts have a crispy interior, a deliciously caramelized exterior, and make for a wonderful summer dessert. Or, better yet, one of the best vehicles for other desserts, too.
In fact, if you miss carnival foods, then this is one of the best grilled desserts you can try. After all, it mixes deep fried goodness with the crispiness of great grilled food.
This quick recipe teaches you how to make grilled donuts in a pinch.
However, if you want to taste one of the best grilled desserts made with fruit, you're going to need to cut the grilled donut open, and fill it with fried bananas and whipped cream.
If you really want to make it carnival-level decadent, then add some ice cream and chocolate syrup to it.
Grilled Fruit Kebabs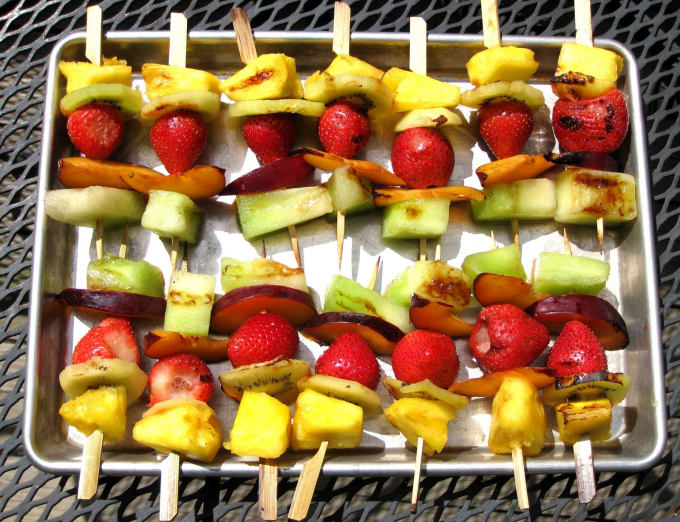 It really does seem like most of the best grilled desserts all involve fruit, don't they? Well, there's a reason for this. Grilled fruit tastes great, has a very low calorie count, and also can be mixed into a number of different other desserts for an additional twist of flavor.
That's actually why we made a list of the best grilled desserts made with fruit. Fruit's delicious on the grill!
Grilled fruit kebabs are as easy a grill recipe as can be, and they don't take too long to prepare. Moreover, this recipe is also really tasty over ice cream, or with a side of key lime pie.
You can learn how to make grilled fruits here.