7 Baking Tips for Man Cave Dwellers
...Be Free of Overly-Processed Baked Goods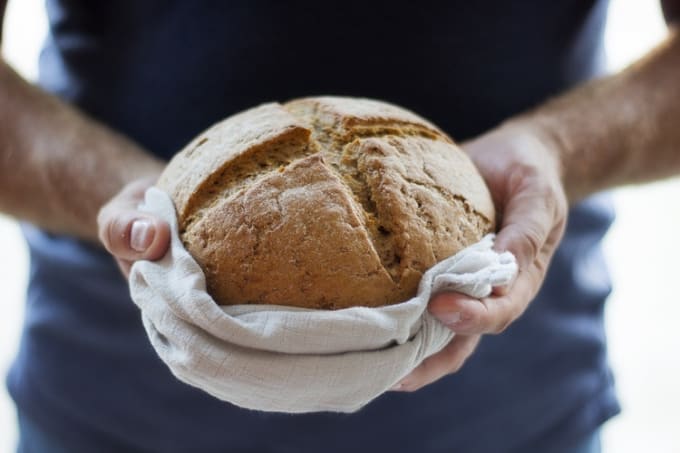 Is your penchant for overly-processed food taking its toll on your waistline? Do you really need to open that second box of Twinkies® and indulge? Is there some way to enjoy wholesome baked goods of very few ingredients like grandma made?
Ask yourself, as a man cave dweller, "Isn't it time to up the ante and get creative with baking?" The answer is yes. Baking for man cave dwellers doesn't have to be something to fear. You can learn to create and bake healthier dessert and bread options for you—and those who frequent your subterranean abode.
The following are seven baking tips for man cave dwellers, sure to enhance your reputation as a culinary original:
1. Have the basic supplies.
This means the proper mixing bowls, measuring cups, and measuring spoons. Consider stand and hand-held mixers as well. Have suitable pans, utensils, aluminum foil, wax paper, and such. Also, don't forget baking sheets, dough scrapers and dividers, and that always needed rolling pin as you develop your baking skills.

2. Start simple.
You don't have to know the intricacies of yeast and fermentation to create something delectable right from the get-go. Think of simple, quick breads that eschew yeast in favor of baking soda and/or baking powder. You can drum up tasty banana bread and have it nice and hot and ready to serve in approximately an hour with a no-fuss recipe.

3. Determine the time.
Being a man cave dweller, you know how much time to approximately devote to an NBA match on game night. Think in the same terms when it comes to baking that great apple pie or crusty Italian bread. Each recipe is unique in its prep time and baking time. Study your recipe first and determine the time commitment you will need to make. This is to ensure you produce a product you and your man cave visitors can be proud of.

4. Don't over-mix.
Is a decadent chocolate chip cookie on your agenda? It's probably the most favorite cookie among man cave dwellers—the first one reached for on supermarket shelves. However, you can't beat baked at home.
Along with quality ingredients, how you mix your cookie dough is also a contributor to recipe success. When you cream the eggs, butter, and sugar, you want minimal mixing so the blend isn't too airy. This will cause the cookies to flatten out during baking. Also, don't overwork the dough when the flour's added.
5. Be in control of salt.
Use unsalted butter as you try different recipes. This lets you control the salt content of your baked goods. You may use salted butter, but then you may want to adjust the amount of salt called for in the recipe you're using. You don't want too salty of a taste in your baked good.

6. Don't be afraid of yeast.
As you graduate to quality home-made artisan style breads, yeast doughnuts, and such, you will be working with yeast. This means proofing time for the yeast culture you prepare in advance of the other recipe steps. One thing to remember as you become comfortable working with yeast is that a little bit of room-temperature or somewhat warm water is the best. Very hot water can kill yeast and then your baking effort is for naught.

7. Don't skip steps.
As a man cave dweller new to baking, you may want your hot baked items sooner rather than later. This could cause you to cut corners or skip steps hoping to get those goods into and out of the oven quicker. Resist that temptation.
Honor the science behind baking by using the right ingredients in the right order at the right time. Successful recipes are the result of tried and true methods based on patient research. Follow the rules of the recipe—step-by-step—and enjoy the fruits of your labor.
Resist the temptation to hunker down in your lair constantly munching on store-bought baked goods, some whose only redeeming quality is the artwork on the cardboard box they come in. Being a man cave dweller doesn't mean being hostage to fast food culture. You can be that Renaissance man who takes the initiative to create awesome baked goods from scratch.